drogo
Lorien



Mar 6 2007, 12:42pm


Views: 652
Shortcut

Own Tolkien's fireplace!
Can't Post

---
http://www.picturesofengland.com/...kienmemorabilia.html



This original tiled fireplace surround from the former Master Bedroom of J. R. R. Tolkien's home at: 76 Sandfield Road, Headington, Oxford, UK is for sale.

Books published whilst J. R. R. Tolkien lived here include:
'The Fellowship of the Ring' (1954), 'The Two Towers' (1954), and 'The Return of the King' (1955).

Wow! This beautiful, original, fireplace surround is a one off that can never be repeated.
It can only be copied!
What would you give to have this original in your lounge, where it would rightly fascinate your friends?
Price: $250,000


Anyone have a few tens of thousands to chip in? We can send it around the globe a la Flat Frodo!


No?


---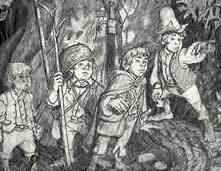 (Formerly drogo of the two names!)