grammaboodawg
Immortal



Nov 25 2008, 1:13am


Views: 142
Shortcut

To me, he's one of the most intriguing characters of the story. A humble heart, but ferocious in battle. A leader forced to lead at war and not in peace. A student of his land driven to be a warrior. He's a reluctant captain that never fails his men or the kingdom he defends. He also has such an influence and amazing moment with Frodo and Sam that has always been one of my favourites:






'Frodo had felt himself trembling as the first shock of fear passed. Now a great weariness came down on him like a cloud. He could dissemble and resist no longer.
'I was going to find a way into Mordor,' he said faintly. 'I was going to Gorgoroth. I must find the Mountain of Fire and cast the thing into the gulf of Doom. Gandalf said so. I do not think I shall ever get there.'
Faramir stared at him for a moment in grave astonishment. Then suddenly he caught him as he swayed, and lifting him gently, carried him to the bed and laid him there, and covered him warmly. At once he fell into a deep sleep.
Another bed was set beside him for his servant. Sam hesitated for a moment, then bowing very low: 'Good night, Captain, my lord,' he said. 'You took the chance, sir.'
'Did I so?' said Faramir.
'Yes sir, and showed your quality: the very highest.'
Faramir smiled. 'A pert servant, master Samwise. But nay: the praise of the praiseworthy is above all rewards. Yet there was naught in this to praise. I had no lure or desire to do other than I have done.'
'Ah well, sir,' said Sam, 'you said my master had an elvish air; and that was good and true. But I can say this: you have an air too, sir, that reminds me of, of—well, Gandalf, of wizards.'
'Maybe,' said Faramir. 'Maybe you discern from far away the air of Númenor. Good night!'



Did I so? You bet you did!

---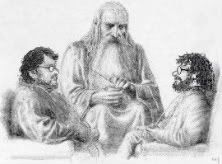 "Barney Snow was here." ~Hug like a hobbit!~ "In my heaven..."

I really need these new films to take me back to, and not re-introduce me to, that magical world.
TORn's Observations Lists