a.s.
Valinor



Aug 7 2008, 12:58am


Views: 749
Shortcut

Journey to the Crossroads: They Walk in Beauty
Can't Post

---
[My leg is giving me fits tonight and must be paid attention to, I'll have to cut this short and just post what I've saved. More tomorrow/a.s.]


The hobbits prepare to continue walking on their journey with a last look and sigh in Faramir's direction: "Hoisting their packs and taking their staves in hand, they passed on into the woods of Ithilien". And what a lovely woods it is; the text in this chapter is some of the loveliest description in the whole of LOTR.




The sun rose and passed overhead unseen, and began to sink, and the light through the trees to the west grew golden; and always they walked in cool green shadow, and all about them was silence.




What a sentence.

They walk "7 leagues" in the woods, noticing in the intense silence that all the birds seem to have flown away. "Darkness came early to the silent woods" and they finally rest for the evening. Frodo sleeps well but Sam passes a restless night:





Sam beside him was more uneasy: he woke many times, but there was never a sign of Gollum, who had slipped off as soon as the others had settled to rest. Whether he had slept by himself in some hole nearby, or had wandered restlessly prowling through the night, he did not say; but he returned with the first glimmer of light, and roused his companions.




1. What's Gollum been off doing, anyway? What's he been eating, since he won't eat the foods from Faramir? It doesn't have the special qualities of lembas--it's just ordinary human food. Why won't he eat the Rangers' food? He won't find any birds too eat, since they're all gone...





[Gollum] returned with the first glimmer of light, and roused his companions.

`Must get up, yes they must!' he said. 'Long ways to go still, south and east. Hobbits must make haste!'




It's the morning of March 9.

2. Why does Gollum stress "south and east" here? In "Journeys of Frodo", Strachey's maps have them walking due south for quite a distance more.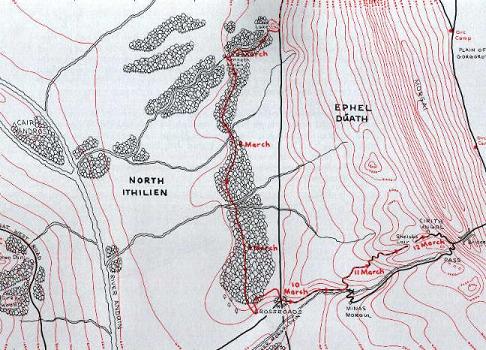 As the third stage of their day's march drew on and afternoon waned, the forest opened out, and the trees became larger and more scattered. Great ilexes of huge girth stood dark and solemn in wide glades with here and there among them hoary ash-trees. and giant oaks just putting out their brown-green buds. About them lay long launds of green grass dappled with celandine and anemones, white and blue, now folded for sleep; and there were acres populous with the leaves of woodland hyacinths: already their sleek bell-stems were thrusting through the mould. No living creature, beast or bird, was to be seen,




Hammond & Scull in LOTR Companion define launds: A laund is an open space in woods, a glade.

Of "ilex", they say: Besides the common holly. which can grow to sixty-five feet, the term ilex also encompasses the holm-oak or evergreen oak (Quercus ilex), which can reach ninety feet. Frodo, Sam and Gollum sleep in a holm-oak the following night.

And they identify the "celandine" of the text with the "Lesser Celandine" (figwort) because it flowers in March and grows in shady places:





And the "woodland hyacinth" is the common bluebell:









Light was fading fast when they came to the forest-end. There they sat under an old gnarled oak that sent its roots twisting like snakes down a steep crumbling bank. A deep dim valley lay before them.



3. Where have we read a similar passage?





There it seemed to Frodo that he descried far off, floating as it were on a shadowy sea, the high dim tops and broken pinnacles of old towers forlorn and dark.




4. And that passage; does that remind you of any other in LOTR?





Frodo looked down on to the road. At any rate nothing was moving on it now. It appeared lonely and forsaken, running down to empty ruins in the mist. But there was an evil feeling in the air, as if things might indeed be passing up and down that eyes could not see. Frodo shuddered as he looked again at the distant pinnacles now dwindling into night, and the sound of the water seemed cold and cruel: the voice of Morgulduin, the polluted stream that flowed from the Valley of the Wraiths.




5. Comments on Frodo's perception here? Is this just ordinary "shivers" or can Frodo sense something unseen?





Gollum reluctantly agreed to this, and he turned back towards the trees, working eastward for a while along the straggling edges of the wood. He would not rest on the ground so near the evil road, and after some debate they all climbed up into the crotch of a large holm-oak, whose thick branches springing together from the trunk made a good hiding-place and a fairly comfortable refuge. Night fell and it grew altogether dark under the canopy of the tree. Frodo and Sam drank a little water and ate some bread and dried fruit, but Gollum at once curled up and went to sleep. The hobbits did not shut their eyes.






Any comments on this part of the text would be very welcome. There are a lot of beautiful words in this little chapter.

Tomorrow: The Dawnless Day.

a.s.

---
"an seileachan"
Pooh began to feel a little more comfortable, because when you are a Bear of Very Little Brain, and you Think of Things, you find sometimes that a Thing which seemed very Thingish inside you is quite different when it gets out into the open and has other people looking at it.