Altaira
Superuser / Moderator



Sep 24 2021, 4:18pm


Views: 371

Come on in and join us for some Fiesta Friday fun!

---
Hello everyone, and welcome to this week's Fiesta Friday celebration!

It's been a beautiful early Fall week here in Colorado with very civilized temperatures around 70-75 f21-23 C), perfect weather for running lots of errands including still making trips to Habitat for Humanity and other donation locations. As we put things back in place after new carpet we're having fun rearranging things and questioning whether we really need this and that. Tomorrow is the big window well drainage project where our contractor will put a drainage pipe in the window well that runs to the sump pit, finally put a sump pump in the pit, with a backup pump to boot in case of a power outage during a storm. They have a lifetime guarantee it won't leak. Take that leaky window well!


Well.... (haha, get it... well?)... what have *you* been doing this week, and what plans do you have for the weekend? The buffet is stocked with apple and peach crumble made with a bit of lembas in the crumbs, and the Fiesta bar is fully-stocked with all your favorites, as always, so make yourself comfy and let us know!

*leans casually on juke box* I've always really liked the song Adventure of a Lifetime by Coldplay. I was listening to it yesterday and watching the video which is also very cool. I've always wondered why they decided to do that particular video with that particular song when lo and behold, I noticed a 'making of' video. I was delighted to find out that the official video was made using motion capture! Have a look. Watch the video, then the making of, then the video again, or whatever sequence you like. Oh, and you'll recognize a very familiar face in the 'making of' video.

Hint.....



*kicks juke box* Adventure of a Lifetime by Coldplay starts to play followed by the making of video.

Enjoy and have a wonderful weekend, everyone!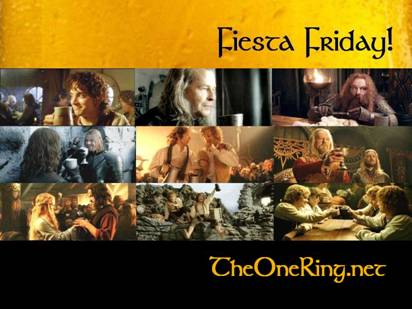 ---
Koru: Maori symbol representing a fern frond as it opens. The koru reaches towards the light, striving for perfection, encouraging new, positive beginnings.
---

"Life can't be all work and no TORn" -- jflower

"I take a moment to fervently hope that the camaradarie and just plain old fun I found at TORn will never end" -- LOTR_nutcase

---




(This post was edited by Altaira on Sep 24 2021, 4:21pm)