Lissuin
Valinor



Feb 22, 2:51am


Views: 791

Riverhead Forest background and photos

---
Quickbeam asked on the Main Page post for local knowledge. I'm down in Wellington, but here's a bit after googling and added photos from Riverhead, NZ on GoogleMaps. This is just a bit of info until more local Tornfolk check in.

NZ topographic map of Riverhead Forest https://www.topomap.co.nz/ (Just search for Riverhead Forest.)
It seems to be a commercial pine forest but open for mixed-use recreation: horse and bicycle riding, hunting, hiking - and, evidently, TV show filming.


A page from the local equestrian group: https://nzbridleways.nzhorseriders.info/...and/riverhead-forest 2011


Riverhead Forest is located in Rodney District, North West of Auckland central. It can be entered from several locations in Coatesville, Riverhead, Waimauku and Waitoki.
This is working pine forest, with logging and other forestry activities during the working week. Originally planted between 1929 and 1932, on poor kauri gum land; the forest covers just under 4000 ha. It is Crown Land, the licencee is Matariki Forests, with Rayonier Forests performing the management. Like other crown leases, this forest includes a recreation specification in the Crown Licence, however this does not guarantee riders or any other group the right to use the forest.


This location map of Rayonier Matariki Forests seems to show they still own Riverhead Forest. That's probably more than we need to know, but once you start down the google rabbit hole...
https://www.matarikiforests.co.nz/about-us/our-locations/

There would be pines of varying size, but these photos also show native ferns along side them. After so much of the native forests had been logged by the early 1900's, the idea arose to plant non-native Radiata pines to sustain the logging industry. There was an interesting TV doco about it recently. It looks very much like the LOTR film location of Arwen leaving M-e with the Elves and her vision of Aragorn and child. (That commercial forest has since been completely felled, but I got to walk there in 2006 before it was gone.)

The "Get off the road!" scene from FOTR was filmed in the largely non-native pine forest of Mt Victoria park above Wellington.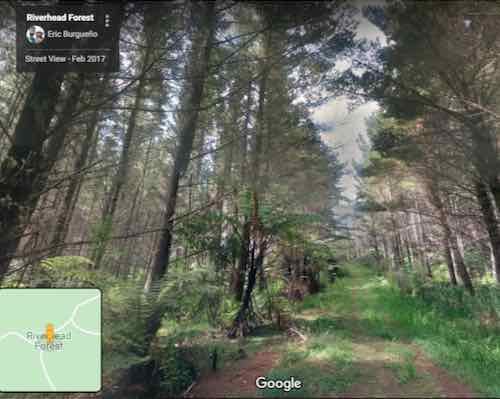 A Youtube video of mountain biking through Riverhead forest. There are several.
https://www.youtube.com/watch?v=ABftd8AQ8GA

This photo is along the riverbank downstream in the Riverhead area. Lots of lush native vegetation that might turn up on camera.
With the pines and the ferns, it could have a Second Age feel, I reckon.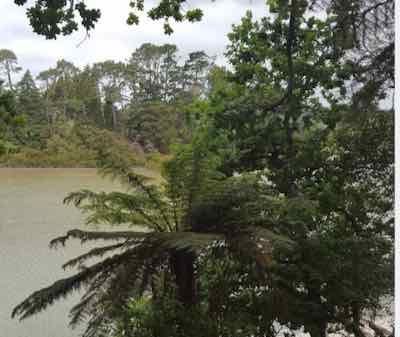 (This post was edited by Ataahua on Feb 22, 6:21am)