grammaboodawg
Immortal



Sep 18 2017, 11:06am


Views: 2542

TIME - September 18

---
Today in Middle-earth

September 18, 2941 (S.R. 1341)
1. The Company is still caught in Thranduil's caves.
(determined from text - referencing Karen Wynn Fonstad, The Atlas of Middle-earth)
...Bilbo continues to ponder an escape plan as he listens, watches and waits.

September 18, 3018 (S.R. 1418)
1. Frodo prepares to leave Bag End for Crickhollow.
(not from the appendices)
..."Bag End began to be busy. Some of Frodo's friends came to stay and help him with the packing: there was Fredegar Bolger and Folco Boffin, and of course his special friends Pippin Took and Merry Brandybuck. Between them they turned the whole place upside-down."

2. Gandalf escapes from Orthanc in the early hours. The Black Riders cross the Fords of Isen.
(from the appendices)
..."'Those of you who know me will agree that I have seldom been in such need, and do not bear such misfortune well. Gandalf the Grey caught like a fly in a spider's treacherous web! Yet even the most subtle spiders may leave a weak thread.
...'At first I feared, as Saruman no doubt intended, that Radagast had also fallen. Yet I had caught no hint of anything wrong in his voice or in his eye at our meeting... ...He sought me in good faith, and so persuaded me.
...'That was the undoing of Saruman's plot. For Radagast knew no reason why he should not do as I asked; and he rode away towards Mirkwood where he had many friends of old. And the Eagles of the Mountains went far and wide, and they saw many things: the gathering of wolves and the mustering of Orcs; and the Nine Riders going hither and thither in the lands; and they heard news of the escape of Gollum. And they sent a messenger to bring these tidings to me.
...'So it was that when summer waned, there came a night of moon, and Gwaihir the Windlord... ...came unlooked-for to Orthanc; and he found me standing on the pinnacle. Then I spoke to him and he bore me away, before Saruman was aware. I was far from Isengard, ere the wolves and orcs issued from the gate to pursue me.
...'"How far can you bear me?" I said to Gwaihir.
...'"Many leagues," said he, "but not to the ends of the earth. I was sent to bear tidings not burdens."
...'"Then I must have a steed on land," I said, 'and a steed surpassingly swift, for I have never had such need of haste before."
...'"Then I will bear you to Edoras, where the Lord of Rohan sits in his halls..."'"

[league = 3 miles]

September 18, 3019 (S.R. 1419)
The Company rides to Rivendell
(not from the appendices-no text)
...Gandalf, the hobbits and Elrond with his company continue at their leisure on their journey to Rivendell as Saruman makes his way to the Shire.

September 18, 3020 (S.R. 1420)
1. The hobbits adjust.
(not from the appendices)
..."Frodo and Sam went back to ordinary attire, except that when there was need they both wore long grey cloaks, finely woven and clasped at the throat with beautiful brooches; and Mr. Frodo wore always a white jewel on a chain that he often would finger."

September 18, 3021 (S.R. 1421)
1. The family in Bag End.
(not from the appendices-no text)
...Frodo found himself watching Sam as he moved about Bag End, often with little Elanor cradled in one of his strong, weathered arms. He suddenly became aware that he had contemplated a hope, a presumption, that would comfort himself in his decision; but would it be fair to Sam? The answer was clear to him. He looked over at Rosie as she set plates and cups on the table and she looked up at him and smiled. Frodo smiled in return. "I'll fetch Sam for you, Rosie. Then I'll come help you finish with the table."

---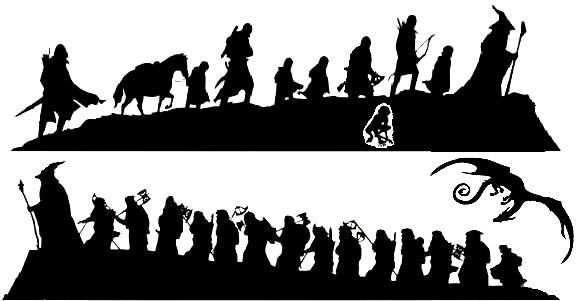 We have been there and back again.

TIME Google Calendar
6th draft of TH:AUJ Geeky Observations List - November 28, 2013
4th draft of TH:DOS Geeky Observations List - May 15, 2014
5th draft of TH:BotFA Geeky Observations List - January 30, 2015
TORn's Geeky Observations Lists for LotR and The Hobbit