grammaboodawg
Immortal



Apr 22 2017, 8:39am


Views: 4474

It's time for some (Middle-) earthly BS!

---
Here is a collection of BS (Book Spoilers) of our amazing Middle-earth to celebrate Earth Day… for a moment of Tolkien-zen.

A Shortcut to Mushrooms


..."In the morning Frodo woke refreshed. He was lying in a bower made by a living tree with branches laced and drooping to the ground; his bed was of fern and grass, deep and soft and strangely fragrant. The sun was shining through the fluttering leaves, which were still green upon the tree."


In the house of Tom Bombadil


...[Goldberry speaks] "'He is the Master of wood, water, and hill.'
...'Then all this strange land belongs to him?'
...'No indeed!' she answered, and her smile faded. 'That would indeed be a burden,' she added in a low voice, as if to herself. 'The trees and the grasses and all things growing or living in the land belong each to themselves.…'

...…A door opened and in came Tom Bombadil. He had now no hat and his thick brown hair was crowned with autumn leaves. He laughed, and going to Goldberry, took her hand.
...'Here's my pretty lady!' he said, bowing to the hobbits. 'Here's my Goldberry clothed all in silver-green with flowers in her girdle! Is the table laden? I see yellow cream and honeycomb, and white bread, and butter; milk, cheese, and green herbs and ripe berries gathered. Is that enough for us? Is the supper ready?'"

..."[Tom] told them many remarkable stories, sometimes half as if speaking to himself, sometimes looking at them suddenly with a bright blue eye under his deep brows… …He told them tales of bees and flowers, the ways of trees, and the strange creatures of the Forest, about evil things and good things, things friendly and things unfriendly, cruel things and kind things, and secrets hidden under brambles.
...As they listened, they began to understand the lives of the Forest, apart from themselves, indeed to feel themselves as the strangers where all other things were at home…."

..."…It was not called the Old Forest without reason, for it was indeed ancient, a survivor of vast forgotten woods; and in it there lived yet, ageing no quicker than the hills, the fathers of the fathers of trees, remembering times when they were lords. The countless years had filled them with pride and rooted wisdom, and with malice."


Lothlórien


..."'Come with me, Frodo!' cried [Gimli], springing from the road. 'I would not have you go without seeing Kheled-zâram.' He ran down the long green slope. Frodo followed slowly, drawn by the still blue water… …Sam came up behind.
...Beside the standing stone Gimli halted and looked up. It was cracked and weather-worn, and the faint runes upon its side could not be read. 'This pillar marks the spot where Durin first looked in the Mirrormere… …Let us look ourselves once, ere we go!'
...They stooped over the dark water. At first they could see nothing. Then slowly they saw the forms of the encircling mountains mirrored in a profound blue, and the peaks were like plumes of white flame above them; beyond there was a space of sky. There like jewels sunk in the deep shone glinting stars, though sunlight was in the sky above. Of their own stooping forms no shadow could be seen."

..."'Here is Nimrodel!' said Legolas. 'Of this stream the Silvan Elves made many songs long ago, and still we sing them in the North, remembering the rainbow on its falls, and the golden flowers that floated in the foam… …I will bathe my feet, for it is said that the water is healing to the weary.' He went forward and climbed down the deep-cloven bank and stepped into the stream.
...'Follow me!' he cried. 'The water is not deep. Let us wade across! On the further bank we can rest, and the sound of the falling water may bring us sleep and forgetfulness of grief.'
...One by one they climbed down… …For a moment Frodo stood near the brink and let the water flow over his tired feet. It was cold but its touch was clean, and as he went on and it mounted to his knees, he felt that the stain of travel and all weariness was washed from his limbs.
...When all the Company had crossed, they sat and rested and ate a little food… …Legolas told them tales… …of sunlight and starlight upon the meadows by the Great River before the world was grey.
...At length a silence fell, and they heard the music of the waterfall running sweetly in the shadows. Almost Frodo fancied that he could hear a voice singing, mingled with the sound of the water."

..."The others cast themselves down upon the fragrant grass, but Frodo stood awhile still lost in wonder. It seemed to him that he had stepped through a high window that looked on a vanished world. A light was upon it for which his language had no name. All that he saw was shapely, but the shapes seemed at once clear cut, as if they had been first conceived and drawn at the uncovering of his eyes… … He saw no colour but those he knew, gold and white and blue and green, but they were fresh and poignant, as if he had at that moment first perceived them and made for them names new and wonderful. In winter here no heart could mourn for summer or for spring. No blemish or sickness or deformity could be seen in anything that grew upon the earth. On the land of Lórien there was no stain…"

..."...As Frodo prepared to follow... ...he laid his hand upon the tree beside the ladder: never before had he been so suddenly and so keenly aware of the feel and texture of a tree's skin and of the life within it. He felt a delight in wood and the touch of it, neither as forester nor as carpenter; it was the delight of the living tree itself."


Many Partings


...[As Merry and Pippin look out on Fangorn] "This shaggy old forest looked so different in the sunlight. I almost felt I liked the place.'
...'Almost felt you liked the Forest! That's good! That's uncommonly kind of you,' said a strange voice. 'Turn round and let me have a look at your faces. I almost feel that I dislike you both, but do not let us be hasty. Turn round!' A large knob-knuckled hand was laid on each of their shoulders, and they were twisted round, gently but irresistibly; then two great arms lifted them up.
...They found that they were looking at a most extraordinary face. It belonged to a large Man-like, almost Troll-like, figure, at least fourteen feet high, very sturdy, with a tall head, and hardly any neck. Whether it was clad in stuff like green and grey bark, or whether that was its hide, was difficult to say… …the arms, at a short distance from the trunk, were not wrinkled, but covered with a brown smooth skin. The large feet had seven toes each. The lower part of the long face was covered with a sweeping grey beard, bushy, almost twiggy at the roots, thin and mossy at the ends. But at the moment the hobbits noted little but the eyes. These deep eyes were now surveying them, slow and solemn, but very penetrating. They were brown, shot with a green light… …Pippin tried to describe his first impression of them.
...'One felt as if there was an enormous well behind them, filled up with ages of memory and long, slow, steady thinking; but their surface was sparkling with the present: like sun shimmering on the outer leaves of a vast tree, or on the ripples of a very deep lake. I don't know, but it felt as if something that grew in the ground—asleep… …or just feeling itself as something between root-tip and leaf-tip, between deep earth and sky--and suddenly waked up, and was considering you with the same slow care that it had given to its own inside affairs for endless years.'"


Of Herbs and Stewed Rabbit


...[The Earth reclaims the land] "…Gollum led them down onto the southward road; and after that they went on more quickly….
...…The road had been made in a long lost time, and for perhaps thirty miles below the Morannon it had been newly repaired, but as it went south the wild encroached upon it. The handiwork of Men of old could still be seen in its straight sure flight and level course: now and again it cut its way through hillside slopes, or leaped over a stream upon a wide shapely arch of enduring masonry; but at last all signs of stonework faded, save for a broken pillar here and there, peering out of the bushes at the side, or old paving-stones still lurking amid weeds and moss. Heather and trees and bracken scrambled down and overhung the banks, or sprawled out over the surface. It dwindled at last to a country cart-road little used..."

...[Frodo, Sam and Gollum] "...passed into the northern marches of that land that Men once called Ithilien, a fair country of climbing woods and swift-falling streams. The night became fine under star and round moon, and it seemed to the hobbits that the fragrance of the air grew as they went forward… …Now they climbed up the westward bank and looked abroad.
...Day was opening in the sky, and they saw that the mountains were now much further off, receding eastward in a long curve that was lost in the distance… …All about them were small woods of resinous trees, fir and cedar and cypress, and other kinds unknown in the Shire, with wide glades among them; and everywhere there was a wealth of sweet-smelling herbs and shrubs… …Here Spring was already busy about them: fronds pierced moss and mold, larches were green-fingered, small flowers were opening in the turf, birds were singing. Ithilien, the garden of Gondor now desolate, kept still a disheveled dryad loveliness.
...South and west it looked towards the warm lower vales of Anduin, shielded from the east by the Ephel Dúath… …protected from the north by the Emyn Muil, open to the southern airs and the moist winds from the Sea far away. Many great trees grew there, planted long ago, falling into untended age amid a riot of careless descendants; and groves and thickets there were of tamarisk and pungent terebinth, of olive and of bay; and there were junipers and myrtles; and thymes that grew in bushes, or with their woody creeping stems mantled in deep tapestries and hidden stones; sages of many kinds putting forth blue flowers, or red, or pale green; and marjorams and new-sprouting parsleys, and many herbs of forms and scents beyond the garden-lore of Sam. The grots and rocky walls were already starred with saxifrages and stonecrops. Primeroles and anemones were awake in the filbert-brakes; and asphodel and many lily-flowers nodded their half-opened heads in the grass: deep green grass beside the pools, where falling streams halted in cool hollows on their journey down to Anduin.
...The travellers turned their backs on the road and went downhill. As they walked, brushing their way through bush and herb, sweet odours rose about them… …the hobbits breathed deep, and suddenly Sam laughed, for heart's ease…"

..."Then came the voice of Faramir close behind. 'Let them see!' he said. The scarves were removed and their hoods drawn back, and they blinked and gasped.
...[Frodo and Sam] stood on a wet floor of polished stone, the doorstep, as it were, of a rough-hewn gate of rock opening dark behind them. But in front a thin veil of water was hung, so near that Frodo could have put an outstretched arm into it. It faced westward. The level shafts of the setting sun behind beat upon it, and the red light was broken into many flickering beams of ever-changing colour. It was as if they stood at the window of some elven-tower, curtained with threaded jewels of silver and gold, and ruby, sapphire and amethyst, all kindled with an unconsuming fire.
...'At least by good chance we came at the right hour to reward you for your patience,' said Faramir. 'This is the Window of the Sunset, Henneth Annûn, fairest of all the falls of Ithilien, land of many fountains…'"


The Scouring of the Shire


..."The trees were the worst loss and damage, for at Sharkey's bidding they had been cut down recklessly far and wide over the Shire; and Sam grieved over this more than anything else. For one thing, this hurt would take long to heal, and only his great-grandchildren… …would see the Shire as it ought to be.
...Then suddenly one day… …he remembered the gift of Galadriel. He brought the box out and showed it to the other Travellers (for so they were now called by everyone), and asked their advice.
...'I wondered when you would think of it,' said Frodo. 'Open it!'
...Inside it was filled with a grey dust, soft and fine, in the middle of which was a seed, like a small nut with a silver shale. 'What can I do with this...? ...I'm sure the Lady would not like me to keep it all for my own garden, now so many folk have suffered,' said Sam.
...'Use all the wits and knowledge you have of your own, Sam,' said Frodo, 'and then use the gift to help your work and better it. And use it sparingly. There is not much here, and I expect every grain has a value.'
...So Sam planted saplings in all the places where specially beautiful or beloved trees had been destroyed, and he put a grain of the precious dust in the soil at the root of each. He went up and down the Shire in this labour; but if he paid special attention to Hobbiton and Bywater no one blamed him. And at the end he found that he still had a little of the dust left; so he went to the Three-Farthing Stone, which is as near to the centre of the Shire... …and cast it in the air with his blessing. The little silver nut he planted in the Party Field where the tree had once been; and he wondered what would come of it. All through the winter he remained as patient as he could, and tried to restrain himself from going round constantly to see if anything was happening.
...Spring surpassed his wildest hopes. His trees began to sprout and grow, as if time was in a hurry and wished to make one year do for twenty. In the Party field, a beautiful young sapling leaped up: it had silver bark and long leaves and burst into golden flowers in April. It was indeed a mallorn, and it was the wonder of the neighbourhood… …it grew in grace and beauty… …the only mallorn west of the Mountains and east of the Sea; and one of the finest in the world."


The Last Debate


...[Gandalf] "It is not our part to master all the tides of the world, but to do what is in us for the succour of those years wherein we are set, uprooting the evil in the fields that we know, so that those who live after may have clean earth to till. What weather they shall have is not ours to rule."

---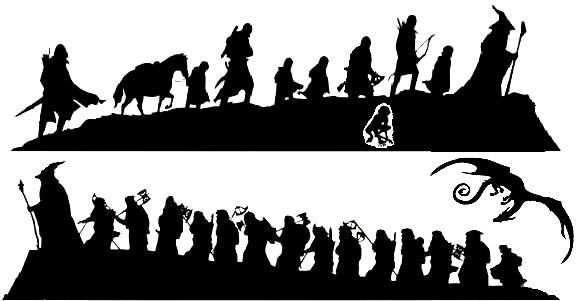 We have been there and back again.

TIME Google Calendar
6th draft of TH:AUJ Geeky Observations List - November 28, 2013
4th draft of TH:DOS Geeky Observations List - May 15, 2014
5th draft of TH:BotFA Geeky Observations List - January 30, 2015
TORn's Geeky Observations Lists for LotR and The Hobbit