grammaboodawg
Immortal



Mar 7 2017, 12:32pm


Views: 2422

TIME - March 7

---
Today in Middle-earth

March 7, 3019 (S.R. 1419)
1. The hobbits pass into the fair land of Ithilien.
(not from the appendices)
..."The early daylight was only just creeping down into the shadows under the trees, but he saw his master's face very clearly, and his hands... ...lying at rest on the ground beside him. He was reminded suddenly of Frodo as he had lain, asleep in the house of Elrond, after his deadly wound... ...Sam had noticed that at times a light seemed to be shining faintly within; but now the light was even clearer and stronger. Frodo's face was peaceful, the marks of fear and care had left it; but it looked... ...old and beautiful, as if the chiselling of the shaping years was now revealed in many fine lines that had before been hidden, though the identity of the face was not changed. Not that Sam Gamgee put it that way to himself. He shook his head, as if finding words useless, and murmured: 'I love him. He's like that, and sometimes it shines through, somehow. But I love him, whether or no....'

...'...Sméagol always helps,' he said. 'He has brought rabbits, nice rabbits. But master has gone to sleep, and perhaps Sam wants to sleep. Doesn't want rabbits now? Sméagol tries to help, but he can't catch things all in a minute.'
...Sam, however, had no objection to rabbit at all, and said so....

......Gollum set the pans down, and then suddenly saw what Sam was doing. He gave a thin hissing shriek, and seemed to be both frightened and angry. 'Ach! Sss—no!' he cried. 'No! Silly hobbits, foolish, yes foolish! They mustn't do it!'
...'Mustn't do what?' asked Sam in surprise.
...'Not make the nassty red tongues... ...Fire, fire! It's dangerous, yes it is. It burns, it kills. And it will bring enemies, yes it will.'
...'I don't think so,' said Sam. 'Don't see why it should, if you don't put wet stuff on it and make a smother. But if it does, it does. I'm going to risk it... ...I'm going to stew these coneys.'
...'Stew the rabbits!' squealed Gollum in dismay. 'Spoil beautiful meat Sméagol saved for you, poor hungry Sméagol. What for! What for, silly hobbit? They are young , they are tender, they are nice. Eat them, eat them!' He clawed at the nearest rabbit, already skinned and lying by the fire.
...'Now, now!' said Sam. 'Each to his own fashion. Our bread chokes you, and raw coney chokes me. If you give me a coney, the coney's mine... ...to cook, if I have a mind. And I have. You needn't watch me. Go and catch another and eat it as you fancy---somewhere private and out o' my sight. Then you won't see the fire, and I shan't see you, and we'll both be the happier.'"

2. One of Sam's dreams comes true!
(not from the appendices)
..."To his astonishment and terror, and lasting delight, Sam saw a vast shape crash out of the trees and come careering down the slope. Big as a house, much bigger than a house, it looked to him... ...Fear and wonder maybe, enlarged him in the hobbit's eyes, but the Mûmak of Harad was indeed a beast of vast bulk, and the like of him does not walk now in Middle-earth... ...On he came, straight towards the watchers, and then swerved aside in the nick of time, passing only a few yards away, rocking the ground beneath their feet: his great legs like trees, enormous sail-like ears spread out, long snout upraised like a huge serpent about to strike, his small red eyes raging. His upturned hornlike tusks were bound with bands of gold and dripped with blood....
......On the great beast thundered, blundering in blind wrath through pool and thicket. Arrows skipped and snapped harmlessly about the triple hide of his flanks. Men of both sides fled before him, but many he overtook and crushed to the ground. Soon he was lost to view, still trumpeting and stamping far away....
......Sam drew a deep breath. 'An Oliphaunt it was!' he said. 'So there are Oliphaunts, and I have seen one. What a life! But no one at home will ever believe me.'"

3. Frodo taken by Faramir to Henneth Annûn.
(from the appendices)
..."'Are the riddling words known to you that Boromir brought to Rivendell?' Frodo replied. 'Seek for the Sword that was Broken, in Imladris it Dwells.'
...'The words are known indeed,' said Faramir in astonishment. 'It is some token of your truth that you also know them.'
...'Aragorn whom I have named is the bearer of the Sword that was Broken,' said Frodo. 'And we are the Halflings that the rhyme spoke of….'"

..."Frodo had felt himself trembling as the first shock of fear passed. Now a great weariness came down on him like a cloud. He could dissemble and resist no longer.
...'I was going to find a way into Mordor,' he said faintly. 'I was going to Gorgoroth. I must find the Mountain of Fire and cast the thing into the gulf of Doom. Gandalf said so. I do not think I shall ever get there.'
...Faramir stared at him... ...in grave astonishment. Then suddenly he caught him as he swayed, and lifting him gently, carried him to the bed and laid him there, and covered him warmly. At once he fell into a deep sleep.
...Another bed was set beside him for his servant. Sam hesitated for a moment, then bowing very low: 'Good night, Captain, my lord... ...You took the chance, sir.'
...'Did I so?' said Faramir.
...'Yes sir, and showed your quality: the very highest.'
...Faramir smiled. 'A pert servant, master Samwise. But nay: the praise of the praiseworthy is above all rewards. Yet there was naught in this to praise. I had no lure or desire to do other than I have done.'
...'Ah well, sir... ...you said my master had an elvish air; and that was good and true. But I can say this: you have an air too, sir, that reminds me of, of--well, Gandalf, of wizards.'
...'Maybe,' said Faramir. 'Maybe you discern from far away the air of Númenor. Good night!'"

4. The Forbidden Pool
(not from the appendices)
..."Faramir and Frodo looked down... ... Presently Frodo was aware of a small dark thing on the near bank, but even as he looked at it, it dived and vanished just beyond the boil and bubble of the fall, cleaving the black water as neatly as an arrow or an edgewise stone.
...Faramir turned to the man at his side. 'Now what would you say that it is, Anborn? A squirrel, or a kingfisher? Are there black kingfishers in the night-pools of Mirkwood?'
...'Tis not a bird, whatever else it be,' answered Anborn... ...What is it at? Seeking a way up behind the Curtain to our hidings? It seems we are discovered at last. I have my bow here, and I have posted other archers... ...We wait only for your command to shoot, Captain.'
...'Shall we shoot?' said Faramir, turning quickly to Frodo.
...Frodo did not answer for a moment. Then 'No!' he said. 'No! I beg you not to.' If Sam had dared, he would have said 'Yes," quicker and louder. He could not see, but he guessed well enough from their words what they were looking at.
...'You know, then, what this thing is?' said Faramir... '...tell me why it should be spared. In all our words together you have not once spoken of your gangrel companion, and I let him be for the time.... ...But now he has done worse trespass... ...he has dared to come to Henneth Annûn, and his life is forfeit.... ...Does he think that men sleep without watch all night? Why does he so?'
...'There are two answers, I think,' said Frodo. 'For one thing, he knows little of Men, and sly though he is, your refuge is so hidden that perhaps he does not know that Men are concealed here. For another, I think he is allured here by a mastering desire, stronger than his caution.'
...'He is lured here, you say?' said Faramir in a low voice. 'Can he, does he then know of your burden?'
...'Indeed yes. He bore it himself for many years.'
...'He bore it?' said Faramir, breathing sharply in his wonder.... '...What then does the creature seek?'
...'Fish,' said Frodo. 'Look!'

...They peered down at the dark pool. A little black head appeared at the far end of the basin, just out of the deep shadow of the rocks. There was a brief silver glint... ...then with marvellous agility a froglike figure climbed out of the water and up the bank. At once it sat down and began to gnaw at the small silver thing that glittered as it turned..."

5. Aragorn comes to Dunharrow at nightfall.
(from the appendices)
..."The Lady Éowyn greeted them and was glad of their coming; for no mightier men had she seen than the Dúnedain and the fair sons of Elrond; but on Aragorn most of all her eyes rested…."

..."...She smiled on him and said: '...it was kindly done, lord, to ride so many miles out of your way to bring tidings to Éowyn, and to speak with her in her exile.'
...'Indeed no man would count such a journey wasted... ...and yet, Lady, I could not have come hither, if it were not that the road which I must take leads me to Dunharrow.'
...And she answered as one that likes not what is said: 'Then, lord, you are astray; for out of Harrowdale no road runs east or south; and you had best return as you came.'
...'Nay, lady... ...I am not astray; for I walked in this land ere you were born to grace it. There is a road out of this valley, and that road I shall take. Tomorrow I shall ride by the Paths of the Dead.'"

6. Shadowfax carries Pippin and Gandalf to the next realm.
(not from the appendices)
..."'…On Shadowfax! We must hasten. Time is short. See! The beacons of Gondor are alight, calling for aid. War is kindled….'"

...'...Sleep again, and do not be afraid!' said Gandalf. 'For you are not going like Frodo to Mordor, but to Minas Tirith, and there you will be as safe as you can be anywhere in these days. If Gondor falls, or the Ring is taken, then the Shire will be no refuge.'
...'You do not comfort me,' said Pippin, but... ...sleep crept over him. The last thing that he remembered before he fell into deep dream was a glimpse of high white peaks, glimmering like floating isles above the clouds as they caught the light of the westering moon. He wondered where Frodo was, and if he was already in Mordor, or if he was dead; and he did not know that Frodo from far away looked on that same moon as it set beyond Gondor ere the coming of the day."

7. Merry visits Helm's Deep.
(not from the appendices)
..."Merry slept until he was roused by Legolas and Gimli. 'The Sun is high,' said Legolas. 'All others are up and doing. Come, Master Sluggard, and look at this place while you may!'
...'There was a battle here three nights ago... ...and here Legolas and I played a game that I won only by a single orc. Come and see how it was! And there are caves, Merry, caves of wonder! Shall we visit them, Legolas, do you think?'
...'Nay! There is not time,' said the Elf. 'Do not spoil the wonder with haste! I have given you my word to return hither with you, if a day of peace and freedom comes again.'"

---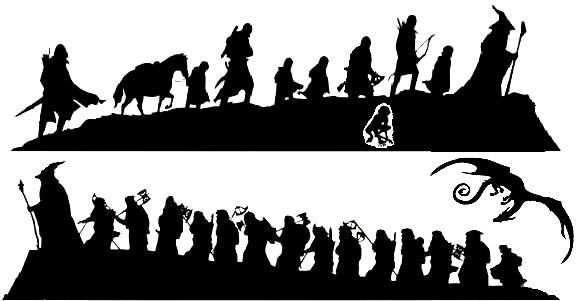 We have been there and back again.

TIME Google Calendar
6th draft of TH:AUJ Geeky Observations List - November 28, 2013
4th draft of TH:DOS Geeky Observations List - May 15, 2014
5th draft of TH:BotFA Geeky Observations List - January 30, 2015
TORn's Geeky Observations Lists for LotR and The Hobbit