grammaboodawg
Immortal



Feb 20 2017, 12:40am


Views: 1572

This is the one story I've been waiting for

---
Though... as with most of the tales in the Sil... it's laced with much sadness and pain. My first wish would be for that to all be undone, but then the story wouldn't be right. But if we're wishing... that would be one of mine :) So please don't flame me on the unlikelihood or bizarre suggestions I make. I really do know better.... but it's fun to fantasize ;)

1. Would you want to see an adaptation?
Yes, if it is done right! It would need to be made with the same integrity and respect Jackson, Boyens, and Walsh had for LotR/Hobbit.

2. If so, what medium would you want to see it in (film, TV)?
Film. It would need to become part of the growing series of Tolkien's stories.

3. How much of the rest of The Silmarillion would you want to see?
I would like to see stories tied to the events in LotR and The Hobbit. Also stories of Galadriel and Celeborn; Elrond; Gil-galad; Earendil; Durin and the birth of the Dwarves; etc. Also, I think a story of Valinor would really give more weight to what it means to the Elves, Gandalf, and our hobbits who found a life there... and eventually to one very wise dwarf... which would also tie the stories together. Then there's the story of the Wizards; Gandalf, Saruman, and Radagast specifically. And, of course, the stories of Sauron; Minas Tirith... oh geez, I have to stop. Anything, any place, any kindred within the filmic stories is fair game, imho.

4. Who should play the legendary couple?
I really don't have anyone in mind. So many of the players in LotR/TH were so perfect in the characters they portrayed, and I hadn't heard of most of them before. I'd really love to have people who are not well known so they would not be a distraction and could fulfill their characters deeper.

5. What screenwriters/directors/producers do you think would create an adaptation that would satisfy your standards?
Those who were either directly (pardon the pun) involved with the stories/films we know, or people who can bring the familiar feel and appearance of these films. The first one to come to mind if Jackson doesn't want to do it would be Andy Serkis and... who knows... Billy and/or Katie Jackson. They have a unique perspective and, by the time these films could begin to be made, would be of an age to meet the challenge.

6. What other characters/actors would you want to see in the adaptation?
If it fit, it would be great to see a small cameo by Galadriel, Cirdan, Elrond, Thranduil, Saruman... those who could potentially be (were) around during the stories in the Sil, though I know they don't really cross paths in most cases.


This is a fascinating set of questions and I had fun exploring the possibilities. I do it all the time with The Sil and the stories in the Appendices; but I know the likelihood of these ever being done is very small.

---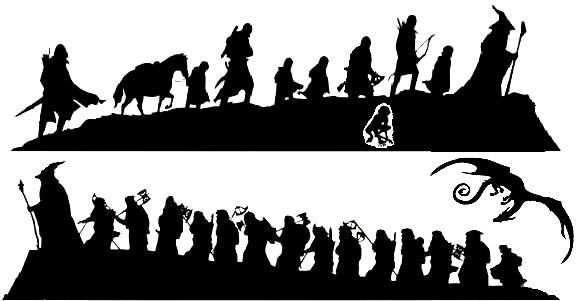 We have been there and back again.

TIME Google Calendar
6th draft of TH:AUJ Geeky Observations List - November 28, 2013
4th draft of TH:DOS Geeky Observations List - May 15, 2014
5th draft of TH:BotFA Geeky Observations List - January 30, 2015
TORn's Geeky Observations Lists for LotR and The Hobbit