grammaboodawg
Immortal



Oct 25 2016, 4:03am


Views: 5351

TIME - October 25

---
Today in Middle-earth

October 25, 2941 (S.R. 1341)
1. The Dwarves venture into the Mountain.
(determined from text)
...""Now do be careful!" whispered the hobbit, "and as quiet as you can be! There may be no Smaug at the bottom, but then again there may be. Don't let us take any un-necessary risks!"
...Down, down they went. The dwarves could not... ...compare with the hobbit in real stealth, and they made a deal of puffing and shuffling which echoes magnified alarmingly... ...every now and again Bilbo in fear stopped and listened, not a sound stirred below....

......They saw the little dark shape of the hobbit start across the floor holding his tiny light aloft. Every now and again, while he was still near enough, they caught a glint and a tinkle as he stumbled on some golden thing. The light grew smaller as he wandered away into the vast hall; then it began to rise dancing into the air. Bilbo was climbing the great mound of treasure. Soon he stood upon the top... ...Then they saw him halt and stoop for a moment; but they did not know the reason.
...It was the Arkenstone, the Heart of the Mountain. So Bilbo guessed from Thorin's description; but indeed there could not be two such gems, even in so marvellous a hoard, even in all the world....

......The great jewel shone before his feet of its own inner light, and yet, cut and fashioned by the dwarves, who had dug it from the heart of the mountain long ago, it took all light that fell upon it and changed it into ten thousand sparks of white radiance shot with glints of the rainbow.
...Suddenly Bilbo's arm went towards it drawn by its enchantment. His small hand would not close about it, for it was a large and heavy gem; but he lifted it, shut his eyes, and put it in his deepest pocket....

......"Mr. Baggins!" Thorin cried. "Here is the first payment of your reward! Cast off your old coat and put on this!"
...With that he put on Bilbo a small coat of mail, wrought for some young elf-prince long ago. It was of silversteel, which the elves call mithril, and with it went a belt of pearls and crystals. A light helm of figured leather, strengthened beneath with hoops of steel, and studded about the brim with white gems, was set upon the hobbit's head.
..."I feel magnificent... ...but I expect I look rather absurd. How they would laugh on the Hill at home! Still I wish there was a looking-glass handy!"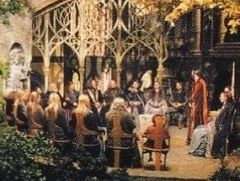 October 25, 3018 (S.R. 1418)
1. Council of Elrond.
(from the appendices)
..."Suddenly... ...a single clear bell rang out. 'That is the warning bell for the Council of Elrond,' cried Gandalf. 'Come along now! Both you and Bilbo are wanted.'
...Frodo and Bilbo followed the wizard quickly along the winding path back to the house; behind them, uninvited and for the moment forgotten, trotted Sam...
......Elrond was there, and several others were seated in silence about him. Frodo saw Glorfindel and Glóin; and in a corner alone Strider was sitting, clad in his old travel-worn clothes again. Elrond drew Frodo to a seat by his side, and presented him to the company, saying:
...'Here, my friends, is the hobbit, Frodo son of Drogo. Few have ever come hither through greater peril or on an errand more urgent...' ...And seated a little apart was a tall man with a fair and noble face, dark-haired and grey-eyed, proud and stern of glance... ...He gazed at Frodo and Bilbo with sudden wonder....

......all listened while Elrond in his clear voice spoke of Sauron and the Rings of Power, and their forging in the Second Age of the world long ago....

...'...What shall we do with the Ring, the least of rings, the trifle that Sauron fancies? That is the doom that we must deem.
...'That is the purpose for which you are called hither. Called, I say, though I have not called you to me, strangers from distant lands. You have come and are here met, in this very nick of time, by chance as it may seem. Yet it is not so. Believe rather that it is so ordered that we who sit here, and none others, must now find counsel for the peril of the world....'

......Boromir stood up, tall and proud, before them.... '...In this evil hour I have come on an errand over many dangerous leagues...
......a dream came to my brother in a troubled sleep; and afterwards a like dream came oft to him again, and once to me. 'In that dream I thought the eastern sky grew dark and there was a growing thunder, but in the West a pale light lingered, and out of it I heard a voice, remote but clear, crying:


Seek for the Sword that was broken:
In Imladris it dwells;
There shall be counsel taken
Stronger than Morgul-spells.
There shall be shown a token
That Doom is near at hand,
For Isildur's Bane shall waken,
And the Halfling forth shall stand.

...Of these words we could understand little, and we spoke to our father, Denethor, Lord of Minas Tirith, wise in the lore of Gondor. This only would he say, that Imladris was of old the name among the Elves of a far northern dale, where Elrond the Halfelven dwelt, greatest of lore-masters. Therefore my brother... ...was eager to heed the dream and seek for Imladris; but since the way was full of doubt and danger, I took the journey upon myself... ...I wandered by roads forgotten, seeking the house of Elrond, of which many had heard, but few knew where it lay.
...'And here in the House of Elrond more shall be made clear to you,' said Aragorn, standing up. He cast his sword upon the table that stood before Elrond, and the blade was in two pieces. 'Here is the Sword that was Broken!' he said.
...'And who are you, and what have you to do with Minas Tirith?' asked Boromir, looking in wonder at the lean face of the Ranger and his weather-stained cloak.
...'He is Aragorn son of Arathorn,' said Elrond; 'and he is descended through many fathers from Isildur Elendil's son of Minas Ithil. He is the Chief of the Dúnedain in the North, and few are now left of that folk.'
...'Then it belongs to you, and not to me at all!' cried Frodo in amazement, springing to his feet, as if he expected the Ring to be demanded at once.
...'It does not belong to either of us,' said Aragorn; 'but it has been ordained that you should hold it for a while....'

... [Then Gandalf spoke of his fears] 'I was lulled by the words of Saruman the Wise; but I should have sought for the truth sooner, and our peril would now be less.'
...'We were all at fault,' said Elrond, 'and but for your vigilance the Darkness, maybe, would already be upon us. But say on!'
...'From the first my heart misgave me, against all reason that I knew,' said Gandalf, 'and I desired to know how this thing came to Gollum, and how long he had possessed it. So I set a watch for him, guessing that he would ere long come forth from his darkness to seek for his treasure. He came, but he escaped and was not found. And then alas! I let the matter rest, watching and waiting only, as we have too often done.
...'Time passed with many cares, until my doubts were awakened again to sudden fear... ...That was seventeen years ago. Soon I became aware that spies of many sorts, even beasts and birds, were gathered round the Shire, and fear grew. I called for the help of the Dúnedain, and their watch was doubled; and I opened my heart to Aragorn, the heir of Isildur....'

...'...And then in my despair I thought again of a test that might make the finding of Gollum unneeded. The ring itself might tell if it were the One. The memory of words at the Council came back to me: words of Saruman, half-heeded at the time. I heard them now clearly in my heart.
...'"The Nine, the Seven, and the Three," he said, "had each their proper gem. Not so the One. It was round and unadorned, as it were one of the lesser rings; but its maker set marks upon it that the skilled, maybe, could still see and read..."

...[Much later after it's established they had the One Ring, talk turned of what to do]'...Very well, very well, Master Elrond!' said Bilbo suddenly. 'Say no more! It is plain enough what you are pointing at. Bilbo the silly hobbit started this affair, and Bilbo had better finish it, or himself. I was very comfortable here, and getting on with my book.... ...I am just writing an ending for it. I had thought of putting: and he lived happily ever afterwards to the end of his days. It is a good ending... ...it does not look like coming true; and anyway there will evidently have to be several more chapters, if I live to write them... ...When ought I to start?'

...'...Of course, my dear Bilbo,' said Gandalf. 'If you had really started this affair, you might be expected to finish it. But you know well enough now that starting is too great a claim for any...'

......The noon-bell rang. Still no one spoke. Frodo glanced at all the faces, but they were not turned to him. All the Council sat with downcast eyes, as if in deep thought. A great dread fell on him, as if he was awaiting the pronouncement of some doom that he had long foreseen and vainly hoped might after all never be spoken. An overwhelming longing to rest and remain at peace by Bilbo's side in Rivendell filled all his heart. At last with an effort he spoke, and wondered to hear his own words, as if some other will was using his small voice.
...'I will take the Ring,' he said, 'though I do not know the way.'"

[to be continued]

---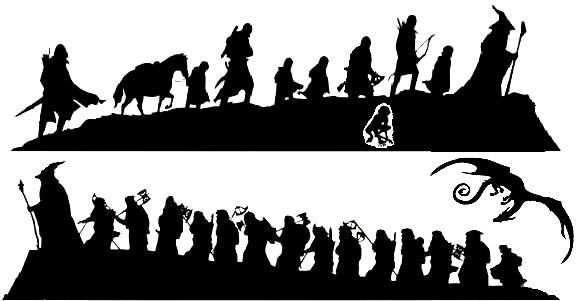 We have been there and back again.

TIME Google Calendar
6th draft of TH:AUJ Geeky Observations List - November 28, 2013
4th draft of TH:DOS Geeky Observations List - May 15, 2014
5th draft of TH:BotFA Geeky Observations List - January 30, 2015
TORn's Geeky Observations Lists for LotR and The Hobbit