Avandel
Half-elven



Apr 1 2016, 7:00pm


Views: 4763

Update mini-review UC Thorin Regal Sword - overall, better than expected IMO

---
The short version is 1) mine looks like this, pretty much:

https://www.youtube.com/watch?v=VM_ubvvp720

and 2), for me this was better than expected;

e.g. in early pictures I thought the hilt looked TOO flat-painted and plastic-like, for one thing. And then in other early pictures IMO the sword seemed to be painted IMO *disturbingly* bluish, for a a guard that was supposed to be carved obsidian. (Worn, scuffed up stone carvings and beads and such don't change color, and black obsidian doesn't gleam blue (but blue tiger eye stone does, so not sure what is going on with that) OR maybe it was just the images and the lighting....etc. etc.
)

ANYWAY
, I like this, in hand, quite a bit. At least mine - if you are going to make polystone look like stone and metal, in a production piece, I think - pretty good and I am happy I bought this - it was a piece I had wanted for a while, but not at full price
and there are some terrible mark-ups from some sellers - shameful
. If I had the knowledge and talent there are probably things you could do to enhance the fakery
. Right now I think a bit more metallic paint smeared here and there might help - I like the gleam of gold on the hilt and think maybe the blade was almost too weathered, but maybe not. Haven't decided because on the one hand I like the "shimmering" effect and high gold/silver/black of: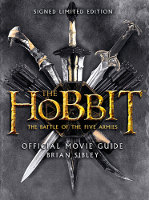 But, if the sword were laying around Erebor with Smaug dribbling dragon slime and such on everything
, I think a lot of stuff would be dusty and greasy.....

Happily the hilt I was fretting over has the *gleam* of gold - it's not as flat-matte as I thought it would be. It LOOKS like a worn, somewhat dirty hilt that was once solid gold...

It feels better than I thought it would, too. Sturdy. It even feels like metal, more or less, heavy. Alas, mine came with a chip on the bottom jaw of one of the ravens - and because of the location and I can do some doctoring and the seller makes IMO returns/exchanges more tedious than I am used to
and I like the paint job, I will keep this - for all I know, since it's where the sword is hung, it would wear there anyway
. There's a small pad of thin rubber on top of the hanging hook, but I may paint some of that car undercoating stuff or put more foam on the sword where it is supposed to hang to pad things more.

Other stuff - the hanging hook/plaque is HEAVY IMO. At some point I might make a wooden one, tho the plaque is nice - supposed extra-reinforced polystone with included screws. There are comments re the instructions re the brittleness of the polystone even tho UC makes their stuff with fiber or steel reinforcement.

And there IS a blue wash over the raven wings and heads - as it happens, in hand, on this one, IMO the effect is nice - like polished black obsidian that had been in use for a while, and so it a little worn, a little dusty. I don't know if other folks swords are more or less blue, or what. (I know I liked my paint job, which w. my limited polystone experience was a good reason to keep this one - if I exchange it, would I be worse off???
)

IMO the weak point of this, if any, are the raven wings at the top of the sword -e.g. I could see those snapping if struck hard - the chip I have in the underjaw to me means the box got hit very hard, because it's from the jaw hitting the hook of the plaque. You can even see a white mark on the hook. I may slap some fiberglass or coating on the inside of the top wings too, by way of reinforcement. It's not that they FEEL flimsy. This thing feels sturdy, overall, for what it is. It's just IMO the wings are beautiful and I want to keep them that way
. The raven guard heads feel utterly solid - lovely, there's even a bit of carved detail on the top of the heads.

(It's shipped well, packed well. After all, these things travel 'round the world. So that was just "things happening". I have this image in my head of shipping containers on a dock being swung around, never mind the U.S. shipping companies
. There's not enough foam wrapped around the hook, IMO, which was a bit of an issue in my case. If the damage IMO were more extreme, back it would go.....
)

Overall, better than pictures, and was pleasantly surprised. I suppose the "con" would be for me having to fuss more over a "sword" that might chip and the weight of the hanging plaque was startling, for me, compared to what a wood plaque might be like. Maybe. But the design is everything I imagined it to be, in hand, very beautiful
! IMO, if you are going to do a "wall hanger" in polystone, this is the way to do it, for a production piece - e.g., surprisingly good, tho I wouldn't have bought it without a hefty sale, personally ('coz I wanted metal, even cheap metal....
). Now I am glad
and I can't see it looks THAT different from Noble co. Deathless sword, which IS all metal.


Some quick pics: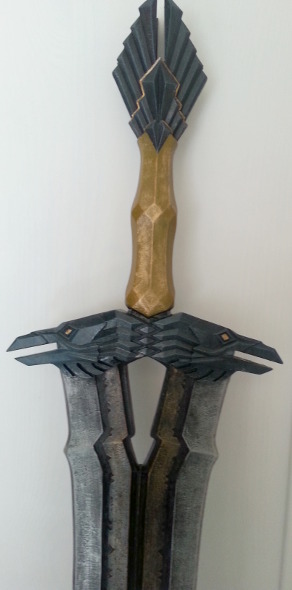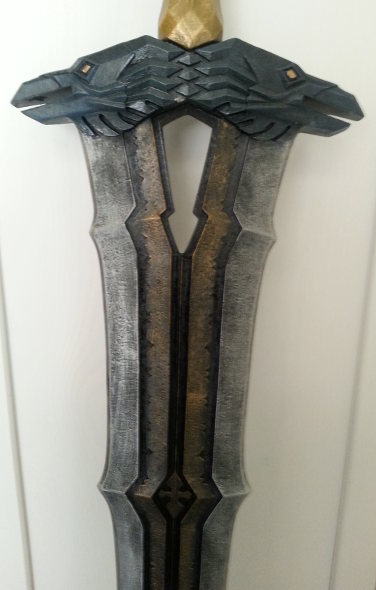 You can see the chip in this image - but that's the thing, even in hand it's barely noticeable and the hook, when hanging, covers it, even if I don't do a little doctoring. Which I will, tho.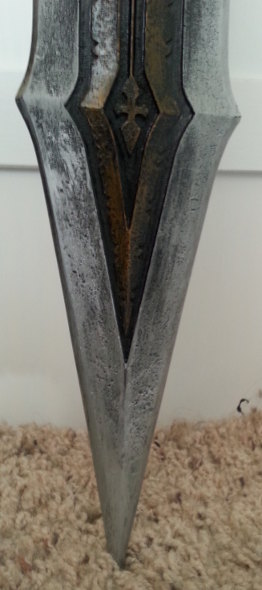 One thing I thought was cool was having the point so smooth and worn looking - IMO like a well-used, sharpened-often orc-killer.