Lissuin
Valinor



Feb 19 2016, 7:35pm


Views: 5628

Tickets are now available! And great poster, Roxy!

---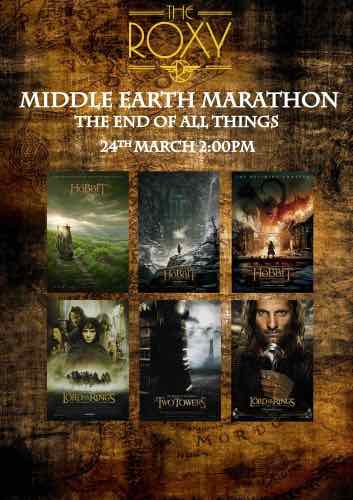 The Roxy Cinema in co-operation with Welly-moot NZ, presents:

A MIDDLE EARTH MARATHON: THE END OF ALL THINGS

All six Middle-earth movies in a single sitting! (An Unexpected Journey, The Desolation of Smaug, The Battle of the Five Armies, The Fellowship of the Ring, The Two Towers, The Return of the King– all in their extended edition glory)

The first film will begin at 2pm Thursday March 24, and that means we will finish at 2pm on the anniversary of the destruction of the Ring, March 25th, or Good Friday. General admission – doors open half an hour before screening for you to select your seat. Dressing up is encouraged – from hobbits and dwarves to orcs and elves, we welcome you all to join us for this epic saga in all its glory on the big screen. Leave the everyday for a whole day in the life of a Middle Earth, joining Bilbo, Frodo and many more in this much-loved adventure.

Tickets will be $250, for that you get the following:

- All six extended films in 2D on The Roxy's big screen.

- Three rustic meals fit for a hobbit from CoCo at The Roxy (we will cater to gluten-free, dairy-free and vegetarian. Please let us know any additional requirements by emailing events@roxycinema.co.nz).

- Snacks between sessions.

- Attending staff.

- A night in the cinema – we encourage you to bring blankets.

Tickets available now online here!


Click on their link below to go to the ticket order page, then go down to "Screening Times" and click on "Thursday 22 March 2:00 pm" to get to the "Book My Show" page.

http://www.roxycinema.co.nz/page-event-3.php

See you there!!!!
Woo HOO!!!!! (totally nuts, right?
)