Cirashala
Tol Eressea



Aug 26 2015, 5:51pm


Views: 7560

The elf army shots don't bother me simply because the whole idea of army discipline is....uniformity.

You have Thranduil, who is the king and clad differently. But the rest of his army (save for Legolas and Tauriel, who understandably aren't armoured at all as they weren't in Mirkwood prepping like the others were) are all in the same armor, aka the same uniform.

The elves aren't the American soldiers in the Revolutionary War making do with whatever they happened to have at home through their varied occupations. They ARE going to be dressed/armoured uniformly because:

1. They're elves. They aren't lacking for time to make armour as they are immortal, and
2. Army discipline, and
3. It's rather confusing in a battle if chaos is happening around you and every person in your army is dressed differently- I know elves have good eyesight and all, but don't you think that (what is it? 1,000 elves?) being dressed differently might mean that one could conceivably see something out of the corner of their eye and kill it before realizing "oops, that guy was on my side...."?

Army uniforms have uniforms, even for battle, simply because they need to know even at a passing glance or corner of the eye that this person is a part of their army and not the enemy. There are some (modern day) insignia differentiating rank, but if you look at an organized, professional army, even several hundred years ago, from the air- they DO look strikingly similar simply because the uniforms don't have a ton of variation other than possible indications of rank.

You can't see much of their faces, especially at a distance, and they are obscured partly by the helmets. So how did you expect a prepared army with strong discipline and some measure of armour uniformity to appear from a distance?

The American soldiers in the Revolutionary War weren't soldiers (most of them anyway)- they were farmers and blacksmiths and shopkeepers and apprentices and inn keepers and politicians and doctors and lawyers and tradesmen, and they went to war wearing what they had (with some measure of color uniformity) whether it be farmer's boots or fancy buckle shoes, breeches or trousers. There wasn't the uniformity BECAUSE they weren't soldiers.

This elf army ARE soldiers, professionals. They each have their "gi issue" armor, their weaponry, their discipline that, for example, the Laketowners lacked. So they're bound to look similar, especially from an aerial perspective.

---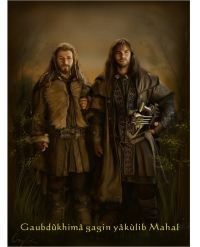 (This post was edited by Cirashala on Aug 26 2015, 5:53pm)