Lurker in the Mirk
Valinor



Aug 18 2014, 12:06am


Views: 6305

Thranduil Appreciation Thread Part X

---
Wow, that was fast. Here we go again!
TA Deca-thread!

Any and all appreciation of
Thranduil and everything related to him happens here.
All
Thranduil Thralls, and appreciating non-Thralls are welcome.
So feel free to jump in at any time!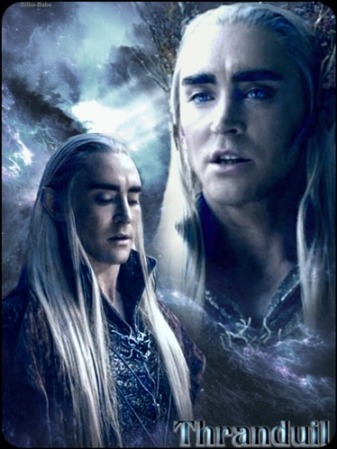 (Clicky!)





The Thranduil Appreciation thread count:
I (Originating thread and II by Rowan Greene)
II
III
IV
V
VI
VII (Thread by Eruvandi)
VIII
IX





Credit goes to Eowyn of Penns Woods for the "official" Thranduil Thrall moniker.




Thranduil Appreciation Lexicon
Bubba: Nickname of Thranduil's beloved War-Elk

Equal Opportunistic Thrall: One who thralls whom her/his infidelity fancies. Shamelessly multi-allegiance by nature. See also "Thranduil Thralls"

Elvenking, The: That's right, that's how it's supposed to be written

Facemelt: That thing Thranduil does in T&T

Fanart: Popular post subject/title. Beacon for Thralls, as sure as moths dive into flames. (Helpful reference for the threadlard inspired: "The TA (very) Quickie Help/TIPS for adding IMAGES and POSTING") See also "Pretty!"

GotG: Guardians of the Galaxy. That movie in August 2014 with LP in it

HCF: Halt and Catch Fire. LP's 2014 TV series.

LA: The Last Alliance of Elves and Men, not the city in the States

Lee Pace: Thranduil

Leggy: affectionate diminutive of Legolas

Legolas: Son of Thranduil, aka surfer Elf of LotR

LP: Lee Pace

Oropher: Father of Thranduil

Orry/Oro: affectionate diminutive of Oropher

PD: Pushing Daisies: LP's 2007/2008 TV series.

Peckish Thrall: Avandel's TA humour panels ala Peckish Owl (So this is new, sue me. I'm just pre-emptively perpetuating something that's an eventuality )

Pretty!: Surely self-explanatory? See also "Woodland Weekend"

T&T: The Thranduil and Thorin confrontation scene in DOS. Generally ranked top favourite of Thranduil Thralls

TA: Thranduil Appreciation. All-round for the Elvenking and his onscreen avatar (and by extension teh actor. See also LP). Shockingly, there are TA posts with that literary bent associated with thinking individuals frequenting such an exemplary forum as TORn. Some even hint at functional brain-matter in the poster.

That disagreeable (among other things) Dwarf: See "T&T"

Theory of Bling: Overarching term for theories and speculation on the backstories of Thranduil's rings. Popular discussion circa TAIII/TAIV, but still pops up occassionally.

Thranddy: affectionate diminutive of the Elvenking's name (if you don't know his name, google is your mellon)

Thranduil Thralls: The afflicted. Fangirls, and boys, whose allegiance are pledged to the Elvenking. Also known as the hopelessly enthralled to his ELVEN MAGNIFICENCE. Perturbing to some, Thralldom may not be exclusive. See also "Equal Opportunistic Thrall"

Threadlock: The inevitable fate of all TA threads exceeding 200 posts, aka mundane Chore of Mod. See also "Thread tipping"

Thread tipping: Post(s) that sends the current TA thread over the 200 postcount (See this tip about avoiding post-death while threadtipping). See also "Threadlock"

TW: Thrall Wars. An ongoing bit of silliness in the Fan Art board ribbing everything in and about the Thralldoms of Thranduil and that disagreeable dwarf (see "T&T"). Only one thing is sure: nothing and no one is safe Think of it as vicarious authorly pretensions in miniature ping-pong mode, usually between Avandel and yours truly... Morphing into a 3-player mahjong game with Kerewyn dipping her toes in

Woodland Weekend: Occasional mega URL laden post for Pretty! of Thranduil, and LP. May also include goodness for Legolas, *cough*That disagreeable (among other things) Dwarf*cough* and some others. Selective indiscrimination is key. See also "Pretty!"


Keeping track of the appreciation
Caught off-guard at how much you've missed? 1 simple click will ensure you won't miss another update again. Put this thread on watch! Locate the "Watch thread" button to the top and right of this post (button 3 of the 5 threads buttons you see) and click it.

Also, if you click on the "creation" bit in the "Age" column (last one) when you view a forum, it changes to "activity", and you get a list of threads which has been recently posted to, instead of when they were started. It's a much easier way to find the current TA thread since someone will probably post in it, and it usually appears on page 1 of the activity view. Certainly beats going back through the board to look for it.

---

I'm a lurker. Fan of both books and movies; it seems I have severely misnamed myself... for the moment.



Appreciating Thranduil, thread by thread: I, II, III, IV, V, VI, VII, VIII, IX
(Tis true! More appreciation threads for Thranduil exist than ME movies)



Thrall Wars!: What business do Elves, Dwarves or Men(?) have with drooling thralls, yea, with smartphones in tow, unto the slopes of Erebor? ... oh, yes, the Hobbit's lingering in some shadows, ever ready to swoop to the hairy rescue. Take cover if you dare!
Teh partsies: Prologue (aka the 'tater-mash of whatever came before), Two, Three, three-appendix: An Unexpected Flashback by Kerewyn (new, posted 10 August), Four


"BoFA"= The Battle || "BotFA"/"tBofTA" = The Hobbit: The Battle of the Five Armies

=======

Middle-earth dispatches out of the lurkmirk


(This post was edited by Lurker in the Mirk on Aug 18 2014, 12:07am)