grammaboodawg
Immortal



Apr 12 2014, 2:24am


Views: 287

Page 3 - Tolkienia Times "Spring in Ithilien" Edition – Founders Day, A Conversation with silneldor

---
Welcome to the third section of our "Spring in Ithilien" Edition of the Tolkienia Times.
In this Section, we will take a look at Founder's Day and enjoy an exclusive interview with TORn's own Woodland King, silneldor.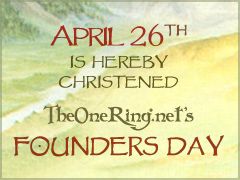 Glory and Trumpets! Let's gather 'round the Party Tree!
by grammaboodawg


There's a very special time coming for TheOneRing.net. On April 26, TORn will celebrate its 15th TORniversary! It was back in April 11, 1999 that TheOneRing.net published its first online news article. It was also the first step in a dramatic change between filmmakers and fans. Thanks to our very curious and relentless Founders who hunted down and reported on the secret filming of The Lord of the Rings, Peter Jackson and TORn forged a collaboration that blossomed into the open and interactive relationship we share today.

On April 26, 1999, TORn officially registered and began exclusive reporting on Peter Jackson's films and all things Tolkien. From that grew our multiple Discussion Boards and a thriving community!

On April 26, 2009, as TORn enjoyed its 10th year, long-time poster weaver created TORn's very own holiday... Founder's Day! It is the one time each year all of us who inhabit TheOneRing.net to celebrate our home and, most of all, our Founders: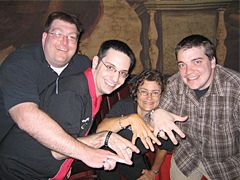 Corvar, Xoanon, Tehanu and Calisuri... and each of them is still very much a part of TORn's everyday life. In 2010, Magpie launched the most excellent Mathom-house containing too many links and treasures to describe, and now we have our very own monthly publication!

So watch for a most wonderful Party under the Tree on April 26th as we share this most wonderful time!


**************************************************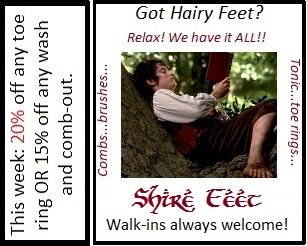 "We though from the racket it was orcs up to no good!" A visit with TORn's own silneldor
by grammaboodawg

What celebrates Spring more than the birds and beasts that spent the long, hard winter hiding from the cold finding their way back to our own little Ithilien? In the northeastern United States, among the sure signs of Spring are the return of robins, hummingbirds, skunks (yes...happy to smell skunks) and bears waking from hibernation. Does Beorn hibernate?

In honor of Beorn and bears all over the world, we're going to visit with TORn's very own mountain man, silneldor. For many years, we have enjoyed sil's stories of his encounters with the bears that live near and visit his Ithilien-esque homestead. silneldor's respect for nature and all its residents resonates with everything he does, so it's not a surprise to witness how he reacts to his unexpected encounters with his furry neighbors. Here's a link to his first tale, and then another, and another. I think Professor Tolkien would truly embrace sil's appreciation of nature and the wild things that live there.

So we've asked silneldor if he'd mind answering a few questions that arose from his stories of Mama Bear and her 2 Cubs.

gramma: Hi silneldor! Thank you so much for visiting with us at this time of the year when Nature is waking from her long winter sleep. We can "bearly" contain ourselves!!! You've had some mighty close calls with your resident bears. Do you ever feel threatened by the presence of these bears, or do you believe you're all part of a natural community? All members of your own personal zoo?

silneldor: Firstly, I must extend my greetings to our esteemed mayor of Tolkienia, Ethel Duath and our esteemed keeper gramma of the Tolkien TIME/Zen daily threads who is lovingly devoting her time to assist as editor of the spring issue of the Tolkienia Times. I feel quite honored to be associated with them both, beautiful spirits that they are.

No, I do not fear these black bears. I have a healthy respect for them though. I feel I understand them. They are hungry, have cubs to feed, and are having their territory continually recede from man's destructive encroachment. We must coax them as we can to remain independent of us and remain wild. I think we are on mutual terms here in regards to zoo-ness. Yes, they are part of mine, but I am part of theirs. Perhaps zoo-ness could be termed just the landscape of life where we all are striving to live in our own ways yet exist together.

gramma: Your warning system is quite unique. It seems to be comprised of Lovie the cat, who has proven to be a worthy lookout yet a bit subdued in her signaling. And then there's the scat (watch your step) deposited throughout the yard! Given how stealthy and silent your neighbors have proven to be, have you ever considered a plan to rig an alarm system, or do you prefer the "Peek a Boo-boo" approach?

silneldor: Yes, bears are deliberately slow careful walkers. They are very quiet, maybe the quietest even with their size. I appreciate these animals because they help me maintain my focus to have more of a heightened awareness using all the senses, particularly my sight.

I remember an important lesson many years ago from Tom Brown's books ('The Tracker' being one of them) that there is a difference between looking and seeing, and between hearing and listening. I know at times I can cue off bird alarm or complaint. That is why I appreciate the chickadees being around. But we can also depend usually on our three cats because they know the smell of bear now. And their hearing and sight are more acute than humans. We know their temperaments and we can pretty much tell if something is up by their reactions.

One time in particular though, my son and I were working on something, on the cement patio side and Lovey, our black coffee colored cat came hell bent for election down the front of the deck (knocking into something), around the corner, down the stairs, past us and disappeared. We looked at each other wide-eyed. I walked over and peeped around the corner and there was a bear down at the far end of the deck eating out of the cat's dish. The bear had walked down (even too quietly for her being pre-occupied) the ramp from the back, and surprized the tar out of Lovie, probably not aggressively but just suddenly THERE and sniffing. I wish I could have seen that. I voiced the bear back up the ramp on that side slapping a handy long foam noodle on the desk (makes a resounding slap).

gramma: Through the years, you've armed yourself with a mug of coffee, a chartreuse-colored flyswatter, challenging oratory, a camera, and a giant noodle. What do you think is your most effective weapon of choice?

silneldor: Yes, ha! I have a regular arsenal at my disposal. One other weapon of note is pots and pans. No, it's not the Sam-wise method perfected in that chamber in Moria, but to incur a racket of clanging and banging. Bears much prefer peace and quiet (I concur) so an onslaught of sound will likely cease and desist missions of naughtiness they might have in mind.


Just one time, this was evident where leaving the doors open (common occurrence there) and at work in the kitchen and alone in the camp, I thought I heard an unusual sound, and not a cat sound per se although I cannot remember exactly what it was, so I peered into the living room/porch area and there was a mid-sized bear just standing inside the french doors within the porch. I did a quick about-face and grabbed two pots (ones with out of round bottoms today) and commenced a din. Vocals with authority are also effective so I said something to the effect, 'No visitors today thank you! Off you go now!' And something else I cannot remember, something about tasty grubs I think. It (F or M) realized the error of its ways and left. That was the closest call in 20 years.

There was the time I was sunning on the dock probably on a break between work or workouts. It was a calm day. I suddenly heard an out of place snap. I listened a moment longer and decided to investigate. Getting up out of the chair I had a fly swatter in my hand and I walked back to the garden area by our back door. There was a fair sized bear right there 15 yards distant, on our flat patch of grass between the flower beds (later I found a chickadee bird house broken on the ground). We just looked at each other for a couple of moments and I decided I would initiate the conversation. Having M*A*S*H* episodes always dancing around in my head, I exclaimed holding the flyswatter up, 'Lookout, this thing may go off!' It was a Trapper John exclamation, also holding up a flyswatter up once concerning some forgotten difficulty there in the swamp. I said more in a stern fashion being in an eye to eye face off, and finally he decided to slowly, methodically turn and go, looking back a few times to see what I was doing which was just standing there by the back door with my dangerous man weapon. When he was up a bit I ran inside for the camera and got a blurry shot of him amongst the trees, about 20 yards distant, from the top ramp by the outhouse.

The weapons of choice I think are; showing no fear,' looming large' (but at a respectful distance knowing they will 'clap' their jaws when feeling overly threatened) and use of any available noise maker which includes a big mouth.

gramma: These 3 bears have really enjoyed your garden, deck, and garbage cans. Do you think your homestead is a regular part of their routine or just a place to go when they're bored... like how we go to the mall?

silneldor: There was the garbage can capers during dawn at first light, quite occasionally, when all is quiet with no human activity about. One time we woke to the sound of lids and cans on cement and I ventured out from bed to see what we had. I went up the ramp from the deck to the point I could see both ways to the back of the little camp, and the camp. Lo and behold there at the far end of the camp were two youngsters frolicking about dragging bags around. I immediately realized that it was imperative I locate the mother immediately to avoid being between them. She was up on the hill thankfully, looking down with either supervision or frustration with the situation. So it was for me to retreat, cease and desist this time myself. But I was able to get a shot or two on the other side before I went inside. I knew a trail of odds and ends would appear up the hill, but it would not be that bad for cleanup.

These bears are a rare occurrence really. There have been years without a sighting. Perhaps once in a 3-5 year range is the average. They do have excellent noses. So between where they are, how smelly the garage is, and the direction of the wind is the key to having visitors I am thinking. Sometimes there is evidence of scat when not there. But it is a rare occurrence again. It is a 'courteous' reminder that they came calling.

gramma: Have your encounters with these powerful, potentially dangerous and yet fascinating animals influenced the character of Beorn in The Hobbit for you? Or, possibly, has Beorn influenced your relationship with these bears?

silneldor: Bears, as least by us, are not nocturnal, but daylight foragers and are not overtly aggressive. Both the book and the movies I feel are not in line with the true nature of the black bear, but more like the grizzly. I would just say that through the book-Beorn, there could be a lesson in regards to respectfulness and courtesy. Black bears are rather timid but they do demand a respectfulness from humans, and a code of courtesy is to be applied when among them too. But they also respect the lack of fear.

gramma: It must be so gratifying to be a part of the quiet, peaceful, unpretentious honesty of living so close to nature. You've created a beautiful haven for your family. What is your favorite time of the year or day when you feel the most connected to it all?

silneldor: It is gratifying and nurturing for us to live with a sense of peace away from the frantic, noisy, pushy part of the "civilized" world. It sounds like a bit of an oxymoron I think. It is a good environment to teach my son self-reliance, to have respect for all living things and to feel inclusive or at home in regards to the natural world. There is much in nature that grounds a person, giving him a feeling of reverence and satisfaction of being just a humble part of something worthy of wonder and awe.

Summer dawns are a special time I think. It is the new light of day with liquid colors, and the growing symphony of bird song and the quickening breezes that stir the leaves. The close growing waves throw waves of rippling light throughout the camp, and the far water's path to the sun are a profusion of effervescent swirls, exhibiting the explosion of twinkling sparkles if you will. Yes, dawn it is:).

gramma: How are your massive co-habitants doing lately? Have you seen any of them (or signs of them scatting about) yet this Spring?

silneldor: This had been a close all time record winter for cold and snow. There is 30 inches of ice on the pond. Never seen it anywhere near that deep before. I have been out there but once doing the mile trek across the ice to check on the water pump that keeps the ice from forming around the dock. There are but signs of the little creatures; the wayward bird and the ever adventurous squirrel. All else must have been, deep asleep.


gramma: Thank you so much for spend time with us, sil… and for showing us how great it is to share our lives with ALL creatures around us!

---
6th draft of TH:AUJ Geeky Observation List - November 28, 2013
3rd draft of TH:DOS Geeky Observation List - January 2, 2014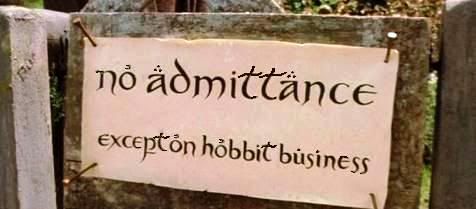 "There is more in you of good than you know, child of the kindly West."

I'm SO HAPPY these new films take me back to that magical world!!
TIME Google Calendar
TORn's Geeky Observations Lists (updated soon)