Magpie
Immortal



Nov 9 2012, 5:08am


Views: 596

" I think in some ways it's good to have at least one thing..."

---
"...for which you could be really immortal, you know?"

............Christopher Lambert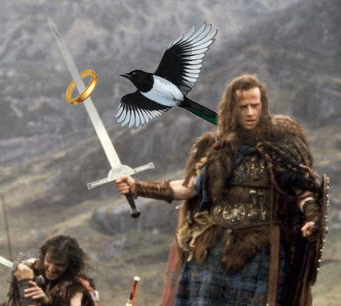 And with this post, if I have calculated correct, I will be immortal. Or at least in one thing. :-)

And not only is this my 10,000th post, it's been a little over 10 years since I came to TORn. Not to the TORn message boards, but to the website. In the summer of 2002, I found TORn and it got that I would check it so often for fresh news that I made it my home page. I guess, except for a few breaks here and there, I've hung around ever since.

I wasn't sure what to do as a mathom but at some point, I realized I was kind of browsing through a mental list of high points here at TORn. So I decided to to sort of Top 10 list of Magpie's memorable moments at TORn. They're not quite top 10... more like 10 that represent a variety of top moments.

So here we go:


Sept 2003 - The Cryptic Crossword Puzzle - I was co-modding the games section of another Tolkien board when TORn posted a Tolkien themed Cryptic Crossword puzzle. I suggested - at the other forum - that we tackle the crossword together for fun but only had one taker, the person I was co-modding with. Together we worked on that puzzle without stop. We each had our strengths. I was good at sluething out lots of info and working out the cryptic format (which wasn't popular in the US). She was good at putting what I'd found together so it made sense. I have to say, working on that puzzle with her was one of the highlights of my life it was so much fun! We finally got solved our last clue and each submitted our answers. There were multiple right answers so names were drawn from a hat and I won! I felt so badly she hadn't that I immediately packed up a box of Tolkien goodies: Burger King toys and goblets, posters, bookmarks, etc (I'm fairly sure I found stuff better than those but I can't remember now) and sent them to her. I had never been lucky at anything and I have to say I've been extraordinarily lucky in Tolkien. Besides the LOTR 3-volume edition illustrated by Alan Lee from this contest, I've also won (from many sources) a Legolas and Gimli standup, a Khazad-dum environment with Balrog, a TT t-shirt, a Weta Galadriel figure, Howard Shore signed copies of all three LOTR Complete Recordings, and one other prize yet to be revealed in this list.


Jan 2004 - My first post - As often as I checked the Home Page and Green Books, I didn't fuss much with the message boards. I think I might have click on that link at one point, but I suspect I was confused by the set up of those old boards. :-) But, in 2004, a fellow soundtrack fan was talking up a discussion series to discuss the LOTR and coaxed us to come join in. I registered... posted a message on the ROTK OST track, Hope and Memory... and came back 3 days later to find the thread locked (old boards = only 1st page threads were active and open). I didn't understand that at all and didn't really come back until a few years later.


Feb 2007 - The New Boards - It's too bad we can't go back to the old boards and browse because I remember Altaira did this fantastic job of teasing that something was going to happen. And then BANG. We had these new boards and it was a frickin party. We all had to reregister so lots of people changed or refined their old user names. I had to register on the old board as aMagpie because Magpie was taken (although it was hard to tell if that person had ever posted anything). We were encouraged to post our old names in our footers till people got used to our new ones so my footer said, "no longer just aMagpie... I'm now *the* Magpie" Here's that first Fiesta Friday on the new boards.


Apr 2007 - Music Trivia Special Edition - I've conducted a few different sorts of LOTR score music discussions. One series took the form of a game where people were to listen to music clips and answer questions about them. It was all a set up to get people listening and talking - I rarely keep score. On April Fool's Day, I posted a special edition one that dealt with sounds... odd sounds. This is representative of all those discussions I led but also of times when we had great fun on these boards. There's been lots of lightheartedness and laughter and I like remember those times. The link provided at the front of this entry is a clone of the original thread here at TORn because that original thread had lots of links and images housed at my old geocities site which is now gone. All of the music discussion series held on the new boards are listed at the TORn Mathom-house. And does any remember why Bob Shaye's name might have been included in this mock disclaimer? "In accepting the prize, the winner acknowledges that Magpie, TheOneRing.net, Peter Jackson, Philippa Boyens, Fran Walsh, Saul Zaentz, The Tolkien Estate, and J.R.R. Tolkien may not be held liable for any loss, damages or injury associated with accepting or using this prize(s). Bob Shaye may. "


Sept 2007 - "In the Shire" Song & Dance -- TORn's Show Your Hobbit Pride competition had categories for art submissions. The categories didn't suit me. I thought, what would I submit if I could submit any artistic endeavor. It hit me. A dance. I've written a few. One called Magpie's Maggot (maggot isn't what you think it is - when used as names for dances it means: A whimsical fancy). I wrote one for 2001, Awry in the Sky or Hal Says Goodbye, to the tune: Daisy Daisy. So I wrote a lyrics (to a traditional tune) and a dance to go with it. I won 'The History of the Hobbit' Boxed Set in a special category The link at the front of this entry is to a cloned page at my website. The original post is here.


Apr 2009 - Showdown on the Dance Floor in the Arena TORn's -- 10th Anniversary / Founders Day Celebration - Aunt Dora posted a battle: Aunt Dora vs. Magpie in a folk dance competition. Many of you might know that both Aunt Dora and I are folk dancers. Auntie does primarily International Dance and I do (or have done) primarily English/Celtic folk dancing. I responded to her challenge by describing a 'battle' that involved 1,000 year old reindeer antlers, a hobby horse, Robin Hood, Maid Marion (man dressed as woman), and a fool carrying an inflated pig's bladder.


Oct 2009 - Magpie's Big Adventure - The FOTR movie was going to be shown to live music at Radio City Music Hall in New York City. How exciting. That's the sort of stuff other people do. Not us. (The Mister and I) We've traveled through many of the states in the USA but always by car and mostly camping. Folks like us didn't go to NYC. Then I started to wonder... why couldn't folks like us go to NYC. Well, we did. It was both exhilarating and terrifying. I met lots of TORn friends and Howard Shore held my hand. sigh... it doesn't get better than that. Read about my adventure here.


Ongoing - Graphics - I just love making and images and graphics and I've gotten to do a lot here on the boards like: Footers for World Hobbit Day, Footers for Tolkien Reading Day, Footers for FOTR 10th Anniversary, Footers for TORn's 10th Anniversary and TORn Scavenger Hunt Medallions.


May 2008 / Jan 2011 - In May 2008, I was asked to become a writer for TORn's Home Page which thrilled me. What I found though was that writing concisely and keeping track of all the bells and whistles of Word Press didn't thrill me so much. I've since backed off on writing. But then in Jan 2011, I was asked to join the staff and I was humbled and honored to do so. I consider my main contribution to TORn to be The Mathom-house wiki but I try to help out with other matters when I can. Sometimes I think back to 10 years ago when I just hit click, click, click all day to see what TheOneRing.net was up to. To get to have an email address that ends in @theonering.net is just such geeky goodness! :-)


Friends - I connected with people from these boards over the net and in real life and I've considered everyone of them friends in Tolkien. We've shared joys and disappointments and struggles and hard times and geeky spasms. We planned and schemed big schemes (map!) and punned and pantsed and partied.



And with that, the Mister awaits me so we can watch some TV together. Forgive my lack of proofreading. I know I'll find 14 errors tomorrow morning. :-p But it's been fun.

---

LOTR soundtrack website ~ magpie avatar gallery
TORn History Mathom-house ~ Torn Image Posting Guide

(This post was edited by dernwyn on Nov 9 2012, 4:57pm)