...Richard Armitage is
all man
. He's altogether too masculine and sexy
and IMO looks too big and 'mightily thewed' for an elf (mmm... those shoulders and thighs
). At the slight risk of repeating myself
, he would make a perfect Bard.
He does 'grim' so well...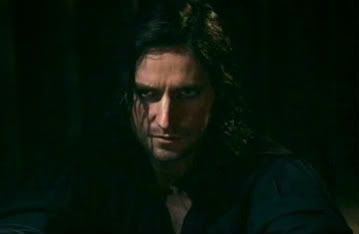 ...and he looks formidable with a long bow.
Plus... he's got THE VOICE (sorry, can't post a picture of that!)
Below are two casting suggestions in one: Bard (Richard Armitage) walking beside the Great Goblin (Keith Allen). They could save money casting Keith Allen as the goblin king because he wouldn't need much make-up...