grammaboodawg
Immortal



Sep 22 2008, 9:50am


Views: 1660

TIME - September 22 HAPPY BIRTHDAY, BAGGINSES!

---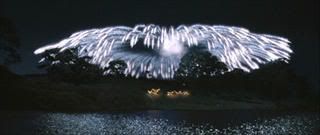 Today in Middle-earth.

September 22, 2890 (S.R. 1290)
1. Birth of Bilbo in the Shire.
(from the appendices-no text)
...Bungo Baggins and Belladonna Took celebrate the birth of their only child, "Bilbo Baggins of Hobbiton, the Shire."


September 22, 2941 (S.R. 1341)
1. Bilbo and the barrels reach Lake-town just after sunset.
(from Karen Wynn Fonstad The Atlas of Middle-earth)
..."...a barrel was cut loose by Bilbo and pushed to the shore and opened. Groans came from inside, and out crept a most unhappy dwarf. Wet straw was in his draggled beard; he was so sore and stiff, so bruised and buffeted he could hardly stand or stumble through the shallow water to lie groaning on the shore....
..."Well, are you alive or are you dead?" asked Bilbo quite crossly... "...Are you still in prison, or are you free? If you want food, and if you want to go on with this silly adventure---it's yours after all and not mine---you had better slap your arms and rub your legs and try and help me get the others out while there is a chance!"

..."Well! Here we are!" said Thorin. "And I suppose we ought to thank our stars and Mr. Baggins. I am sure he has a right to expect it, though I wish he could have arranged a more comfortable journey. Still---all very much at your service once more, Mr. Baggins. No doubt we shall feel properly grateful, when we are fed and recovered. In the meanwhile what next?"
..."I suggest Lake-town," said Bilbo. "What else is there?"

..."Even Bilbo was given a seat at the high table, and no explanation of where he came in—no songs had alluded to him even in the obscurest way—was asked for in the general bustle....
...... the dwarves' good feeling towards the little hobbit grew stronger every day. There were no more groans or grumbles. They drank his health, and they patted him on the back, and they made a great fuss of him; which was just as well, for he was not feeling particularly cheerful. He had not forgotten the look of the Mountain, nor the thought of the dragon, and he had besides a shocking cold... ...his speeches at banquets were limited to "Thag you very buch.""


September 22, 2968 (1368)
1. Birth of Frodo in the Shire.
(from the appendices-no text)
...Drogo Baggins and Primula Brandybuck celebrate the birth of their only child, "Frodo Baggins of Buckland, the Shire."


September 22, 3001 (S.R. 1401)
1. A long expected party!!
(not from the appendices)
[Bilbo is eleventy-one and Frodo is thirty-three]
..."The sun got up, the clouds vanished, flags were unfurled and the fun began.
...Bilbo met the guests (and additions) at the new white gate in person. He gave away presents to all and sundry—the latter were those who went out again by the back way and came in again by the gate. Hobbits give presents to other people on their own birthdays....
......There were three official meals: lunch, tea, and dinner (or supper). But lunch and tea were marked chiefly by the fact that at those times all the guests were sitting down and eating together. At other times there were merely lots of people eating and drinking—continuously from elevenses until six-thirty, when the fireworks started.
...The fireworks were by Gandalf: they were not only brought by him, but designed and made by him; and the special effects, set pieces, and flights of rockets were let off by him. But there was also a generous distribution of squibs, crackers, backarappers, sparklers, torches, dwarf-candles, elf-fountains, goblin-barkers and thunder-claps. They were all superb. The art of Gandalf improved with age.
...There were rockets like a flight of scintillating birds singing with sweet voices. There were green trees with trunks of dark smoke: their leaves opened like a whole spring unfolding in a moment, and their shining branches dropped glowing flowers down upon the astonished hobbits, disappearing with a sweet scent just before they touched their upturned faces. There were fountains of butterflies that flew glittering into the trees; there were pillars of coloured fires that rose and turned into eagles, or sailing ships, or a phalanx of flying swans; there was a red thunderstorm and a shower of yellow rain; there was a forest of silver spears that sprang suddenly into the air with a yell like an embattled army, and came down again into the Water with a hiss like a hundred hot snakes. And there was also one last surprise, in honour of Bilbo, and it startled the hobbits exceedingly, as Gandalf intended. The lights were out. A great smoke went up. It shaped itself like a fountain seen in the distance, and began to flow at the summit. It sprouted green and scarlet flames. Out flew a red-golden dragon—not life-size, but terribly life-like: fire came from his jaws, his eyes glared down; there was a roar, and he whizzed three times over the heads of the crowd. They all ducked, and many fell flat on their faces. The dragon passed like an express train, turned a somersault, and burst over Bywater with a deafening explosion.
...'That is the signal for supper!' said Bilbo. The pain and alarm vanished at once, and the prostrate hobbits leaped to their feet..."

...After the feast (more or less) came the Speech. Most of the company were, however, now in a tolerant mood, at that delightful stage which they called 'filling up the corners'. They were sipping their favourite drinks, and nibbling at their favourite dainties, and their fears were forgotten. They were prepared to listen to anything, and to cheer at every full stop.
...'My dear People,' began Bilbo, rising in his place. 'Hear! Hear! Hear!' they shouted, and kept on repeating it in chorus, seeming reluctant to follow their own advice. Bilbo left his place and went and stood on a chair under the illuminated tree. The light of the lanterns fell on his beaming face; the golden buttons shone on his embroidered silk waistcoat. They could all see him standing, waving one hand in the air, and the other was in his trouser-pocket.
...'My dear Bagginses and Boffins, he began again; and my dear Tooks and Brandybucks, and Grubbs, and Chubbs, and Burrowses, and Hornblowers, and Bolgers, Bracegirdles, Goodbodies, Brockhouses and Proudfoots.'
...'ProudFEET!' shouted an elderly hobbit from the back of the pavilion. His name, of course, was Proudfoot, and well merited; his feet were large, exceptionally furry, and both were on the table.
...'Proudfoots, ' repeated Bilbo. 'Also my good Sackville-Bagginses that I welcome back at last to Bag End. Today is my one hundred and eleventh birthday: I am eleventy-one today!'
... 'Hurray! Hurray! Many Happy Returns!' they shouted, and they hammered joyously on the tables. Bilbo was doing splendidly. This was the sort of stuff they like: short and obvious.
...'I hope you are all enjoying yourselves as much as I am.' Deafening cheers. Cries of YES (and NO). Noises of trumpets and horns, pipes and flutes, and other musical instruments. There were, as has been said, many young hobbits present. Hundreds of musical crackers had been pulled. Most of them bore the mark DALE on them; which did not convey much to most of the hobbits, but they all agreed they were marvellous crackers. They contained instruments, small, but of perfect make and enchanting tones. In deed, in one corner some of the young Tooks and Brandybucks, supposing Uncle Bilbo to have finished (since he had plainly said all that was necessary), now got up an impromptu orchestra, and began a merry dance-tune. Master Everard Took and Miss Melilot Brandybuck got on a table and with bells in their hands began to dance the Springle-ring: a pretty dance, but rather vigorous.
...But Bilbo had not finished. Seizing a horn from a youngster near by, he blew three loud hoots. The noise subsided. 'I shall not keep you long,' he cried. Cheers from all the assembly. 'I have called you all together for a Purpose.' Something in the way that he said this made an impression. There was almost silence, and one or two of the Tooks pricked up their ears.
...'Indeed, for Three Purposes! First of all, to tell you that I am immensely fond of you all, and that eleventy-one years is too short a time to live among such excellent and admirable hobbits.' Tremendous outburst of approval.
'I don't know half of you half as well as I should like; and I like less than half of you half as well as you deserve.' This was unexpected and rather difficult. There was some scattered clapping, but most of them were trying to work it out and see if it came to a compliment.

...'Secondly, to celebrate my birthday.' Cheers again. 'I should say: OUR birthday. For it is, of course, also the birthday of my heir and nephew, Frodo. He comes of age and into his inheritance today.' Some perfunctory clapping by the elders; and some loud shouts of 'Frodo! Frodo! Jolly old Frodo,' from the juniors. The Sackville-Bagginses scowled and wondered what was meant by 'coming into his inheritance'.
...'Together we score one hundred and forty-four. Your numbers were chosen to fit this remarkable total: One Gross, if I may use the expression.' No cheers. This was ridiculous. Many of the guests, and especially the Sackville-Bagginses, were insulted, feeling sure they had only been asked to fill up the required number, like goods in a package. 'One Gross, indeed! Vulgar expression!'
...'It is also, if I may be allowed to refer to ancient history, the anniversary of my arrival by barrel Esgaroth on the Long Lake; though the fact that it was my birthday slipped my memory on that occasion. I was only fifty-one then, and birthdays did not seem so important. The banquet was very splendid, however, though I had a bad cold at the time, I remember, and could only say "thag you very buch". I now repeat it more correctly: Thank you very much for coming to my little party.' Obstinate silence. They all feared that a song or some poetry was now imminent; and they were getting bored. Why couldn't he stop talking and let them drink his health? But Bilbo did not sing or recite. He paused for a moment.
...'Thirdly and finally, he said, 'I wish to make an ANNOUNCEMENT.' He spoke this last word so loudly and suddenly that everyone sat up who still could. 'I regret to announce that—though, as I said, eleventy-one years is far too short a time to spend among you—this is the END. I am going. I am leaving NOW. GOOD-BYE!'
...He stepped down and vanished. There was a blinding flash of light, and the guests all blinked. When they opened their eyes Bilbo was nowhere to be seen. One hundred and forty-four flabbergasted hobbits sat back speechless. Old Odo Proudfoot removed his feet from the table and stamped. Then there was a dead silence, until suddenly, after several deep breath, every Baggins, Boffin, Took, Brandybuck, Grubb, Chubb, Burrows, Bolger, Bracegirdle, Brockhouse, Goodbody, Hornblower, and Proudfoot began to talk at once."


September 22, 3018 (S.R. 1418)
1. Bilbo and Frodo's birthdays. Frodo leaves the Shire.
(not from the appendices)
..."Thursday, his birthday morning, dawned as fair and clear as it had long ago for Bilbo's great Party. Still Gandalf did not appear. In the evening Frodo gave his farewell feast: it was quite small, just a dinner for himself and his four helpers; but he was troubled and felt in no mood for it. The thought that he would so soon have to part with his young friends weighed on his heart. He wondered how he would break it to them.
...The four younger hobbits were, however, in high spirits and the party soon became very cheerful in spite of Gandalf's absence. The dining-room was bare except for a table and chairs, but the food was good, and there was good wine: Frodo's wine had not been included in the sale of the Sackville-Bagginses.
...'Whatever happens to the rest of my stuff, when the S-Bs get their claws on it, at any rate I have found a good home for this!' said Frodo as he drained his glass. It was the last drop of Old Winyards.
...When they had sung many songs, and talked of many things they had done together, they toasted Bilbo's birthday, and they drank to his health and Frodo's together according to Frodo's custom. Then they went out for a sniff of air, and glimpse of the stars, and then they went to bed. Frodo's party was over, and Gandalf had not come."

2. The Black Riders reach Sarn Ford at evening; they drive off the guard of Rangers.
(from the appendices-no text)
...A presence of old crept through the forest which the Ranger felt long before he heard the sound of galloping hoofs. With a rush, five Black Riders swept over him as he stood in the defence. Yet in the end he yielded to their force, feeling it prudent to alert his brethren and prepare for the battle they long sensed would come.

3. Gandalf overtakes Shadowfax.
(from the appendices)
..."I took the best horse in his land, and I have never seen the like of him.... ...Never had any man mounted him, but I took him and I tamed him..."


September 22, 3019 (S.R. 1419)
1. The hundred and twenty-ninth birthday of Bilbo and Frodo's fifty-first birthday. Saruman comes to the Shire.
(not from the appendices)
..."After the celebration of Bilbo's birthday the four hobbits stayed in Rivendell for some days, and they sat much with their old friend, who spent most of his time now in his room, except at meals. For these he was still very punctual as a rule, and he seldom failed to wake up in time for them. Sitting round the fire they told him in turn all that they could remember of their journeys and adventures...
......The only part that seemed really to rouse him and hold his attention was the account of the crowning and marriage of Aragorn. 'I was invited to the wedding, of course,' he said. 'And I have waited for it long enough. But somehow, when it came to it, I found I had so much to do here; and packing is such a bother.'"

2. Saruman comes to the Shire.
(not from the appendices)
..."'…since Sharkey came it's been plain ruination.' [tells Farmer Cotton]
... 'Who is this Sharkey?' said Merry. 'I heard one of the ruffians speak of him.'
... 'The biggest ruffian o' the lot, seemingly,' answered Cotton. 'It was about last harvest, end o' September maybe, that we first heard of him. We've never seen him, but he's up at Big End; and he's the real Chief now, I guess. All the ruffians do what he says; and what he says is mostly: hack, burn, and ruin; and now it's come to killing. There's no longer even any bad sense in it. They cut down trees and let 'em lie, they burn houses and build no more…. … They're always a-hammering and a-letting out a smoke and a stench, and there isn't no peace even at night in Hobbiton. And they pour out filth a purpose; they've fouled all the lower Water, and it's getting down into the Brandywine. If they want to make the Shire into a desert, they're going the right way about it. I don't believe that fool of a Pimple's behind all this. It's Sharkey, I say.'"


September 22, 3020 (S.R. 1420)
1. Bilbo's hundred and thirtieth birthday. Frodo's fifty-second birthday.
(from the appendices-no text)
...There was a quiet gathering of friends and family at Bag End. Merry, Pippin, Rosie, Sam and Frodo enjoyed food, drink and song in front of the fire. At the end of the evening, as is Frodo's custom, they drank to Bilbo and Frodo's health. Laughter followed as stories of Bilbo's adventures were shared while Frodo fell silent and gazed into the flames.


September 22, 3021 (S.R. 1421)
1. They meet the Last Riding of the Keepers of the Rings in Woody End.
(from the appendices)
..."They camped in the Green Hills, and on September the twenty-second they rode gently down into the beginning of the trees as afternoon was wearing away.
...'If that isn't the very tree you hid behind when the Black Rider first showed up, Mr. Frodo!' said Sam pointing to the left. 'It seems like a dream now.'
...It was evening, and the stars were glimmering in the eastern sky as they passed the ruined oak and turned and went on down the hill between the hazel-thickets. Sam was silent, deep in his memories. Presently he became aware that Frodo was singing softly to himself, singing the old walking-song, but the words were not quite the same.


Still round the corner there may wait
A new road or secret gate;
And though I oft have passed them by,
A day will come at last when I
Shall take the hidden paths that run
West of the Moon, East of the Sun.



And as if in answer, from down below, coming up the road out of the valley, voices sang:


A! Elbereth Gilthoniel!
silivren penna míriel
o menel aglar elenath,
We still remember, we who dwell
In this far land beneath the trees
The starlight on the Western Seas.



...Frodo and Sam halted and sat silent in the soft shadows, until they saw a shimmer as the travellers came towards them.
...There was Gildor and many fair Elven folk; and there to Sam's wonder rode Elrond and Galadriel. Elrond wore a mantle of grey and had a star upon his forehead, and a silver harp was in his hand, and upon his finger was a ring of gold with a great blue stone, Vilya, mightiest of the Three. But Galadriel sat upon a white palfrey and was roped all in glimmering white, like clouds about the Moon; for she herself seemed to shine with a soft light. On her finger was Nenya, the ring wrought of mithril, that bore a single white stone flickering like a frosty star. Riding slowly behind on a small grey pony, and seeming to nod in his sleep, was Bilbo himself.
......Bilbo woke up and opened his eyes. 'Hullo, Frodo!' he said. 'Well, I have passed the Old Took today! So that's settled. And now I think I am quite ready to go on another journey. Are you coming?'
...'Yes, I am coming.' said Frodo. 'The Ring-bearers should go together.'"


September 22, 3082 (S.R. 1482)
(from the appendices)
[at ninety-nine years of age] "...Master Samwise rides out from Bag End. He comes to the Tower Hills, and is last seen by Elanor, to whom he gives the Red Book afterwards kept by the Fairbairns. Among them the tradition is handed down from Elanor that Samwise passed the Towers, and went to the Grey Havens, and passed over Sea, last of the Ring-bearers."


---


Happy Birthday Bilbo and Frodo!!


TORn Party Hats
TORn party Hats deux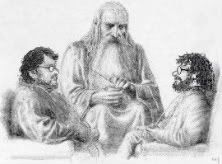 "Barney Snow was here." ~Hug like a hobbit!~ "In my heaven..."

I really need these new films to take me back to, and not re-introduce me to, that magical world.
TORn's Observations Lists