grammaboodawg
Immortal



Nov 24 2021, 1:08pm


Views: 813

TIME - November 24

---
Today in Middle-earth

November 24, 2941 (S.R. 1341)
1. One part of the adventure ends.
(determined from text)
..."When Bilbo came to himself, he was... ...lying on the flat stones of Ravenhill, and no one was near... ...He was shaking, and as chilled as stone, but his head burned with fire.
..."Now I wonder what has happened?" he said to himself. "At any rate I am not yet one of the fallen heroes; but I suppose there is still time enough for that!"
...He sat up painfully. Looking into the valley he could see no living goblins. After a while as his head cleared a little, he thought he could see elves moving in the rocks below... ...Dwarves seemed to be busy removing the wall. But all was deadly still. There was no call and no echo of a song. Sorrow seemed to be in the air.
..."Victory after all, I suppose!" he said, feeling his aching head. "Well, it seems a very gloomy business."
...Suddenly he was aware of a man climbing up and coming towards him.
..."Hullo there!" he called with a shaky voice. "Hullo there! What news?"
..."What voice is it that speaks among the stones?" said the man halting and peering about him not far from where Bilbo sat.
...Then Bilbo remembered his ring! "Well I'm blessed..! ...This invisibility has its drawbacks after all. Otherwise I suppose I might have spent a warm and comfortable night in bed!"

......When Gandalf saw Bilbo, he was delighted. "Baggins!" he exclaimed. "Well I never! Alive after all—I am glad! I began to wonder if even your luck would see you through! A terrible business, and it nearly was disastrous. But other news can wait. Come!" he said more gravely. "You are called for;" and leading the hobbit he took him within the tent.
..."Hail! Thorin... ...I have brought him."
...There indeed lay Thorin Oakenshield, wounded with many wounds, and his rent armour and notched axe were cast upon the floor. He looked up as Bilbo came beside him.
..."Farewell, good thief... ...I go now to the halls of waiting to sit beside my fathers, until the world is renewed. Since I leave now all gold and silver, and go where it is of little worth, I wish to part in friendship from you, and I would take back my words and deeds at the Gate."
...Bilbo knelt on one knee filled with sorrow. "Farewell, King under the Mountain..! ...This is a bitter adventure, if it must end so; and not a mountain of gold can amend it. Yet I am glad that I have shared in your perils—that has been more than any Baggins deserves."
..."No!" said Thorin. "There is more in you of good than you know, child of the kindly West. Some courage and some wisdom, blended in measure. If more of us valued food and cheer and song above hoarded gold, it would be a merrier world. But sad or merry, I must leave it now. Farewell!"
...Then Bilbo turned away, and he went by himself, and sat alone wrapped in a blanket, and... ...he wept until his eyes were red and his voice was hoarse.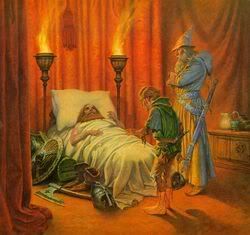 ......All that had happened after he was stunned, Bilbo learned later; but it gave him more sorrow than joy, and he was now weary of his adventure. He was aching in his bones for the homeward journey.
..."Where are the Eagles?" he asked Gandalf that evening, as he lay wrapped in many warm blankets.
..."Some are in the hunt... ...but most have gone back to their eyries. They would not stay here, and departed with the first light of morning. Dain has crowned their chief with gold, and sworn friendship with them for ever."
..."I am sorry. I mean, I should have liked to see them again," said Bilbo sleepily; "perhaps I shall see them on the way home. I suppose I shall be going home soon?"
..."As soon as you like," said the wizard."

---


We have been there and back again.

Join the "Tolkien Fandom Oral History Project"
TIME Google Calendar


(This post was edited by grammaboodawg on Nov 24 2021, 1:08pm)