Otaku-sempai
Immortal



Oct 31 2019, 1:43pm


Views: 6246

The One Ring 2nd Ed. Fellowship Phase

---
A new post at Cubicle 7 focuses on the Fellowship Phase in The One Ring – The Lord of the Rings Roleplaying Game: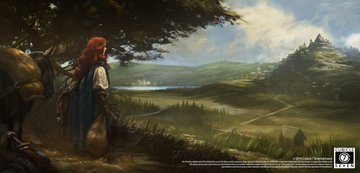 Welcome back to another #TORsday! We've already had quite an adventure: We've talked a bit about the characters, the maps, and lots about Councils, Combat, and Journeys. Now it is time to head home (or at least to a safe place), where we can relax and perhaps reflect upon our experiences.

The Fellowship Phase is a critical part of The One Ring. It was one of the most innovative parts of the first edition and is now a staple in a lot of modern RPGs. It allows heroes to have a home and a safe place in the world to return to after facing untold dangers during their adventures. In the second edition of the game, Fellowship Phases come in several sizes, depending on how much time the heroes are taking to recover. During Year's End, most Companies take an extended break, allowing heroes to return home for festivities.

A short Fellowship Phase lasts just a few weeks, allowing a hero to improve themselves somewhat and undertake one special task. A medium length phase allows two activities, and a long Fellowship Phase allows three undertakings. During this time, the Loremaster should reference the information included in the Tale of Years to show the Player-heroes the passage of time and remind them that the world moves on while they rest. Campaigns such as The Darkening of Mirkwood and The Errantries of the King have a number of yearly events that help to bring the world to life.


The biggest changes seem to be the addition of the medium Fellowship Phase and the number of Undertakings allowed in the Year's End Fellowship Phase. I've pre-ordered my copy of the standard edition and I'll be looking over the PDF carefully once I receive it. Hopefully, the next announcement might give us a date for the release of the PDF.

---
#FidelityToTolkien

(This post was edited by Otaku-sempai on Oct 31 2019, 1:44pm)