Otaku-sempai
Immortal



Oct 10 2019, 3:32pm


Views: 7421

Posted at Cubicle 7: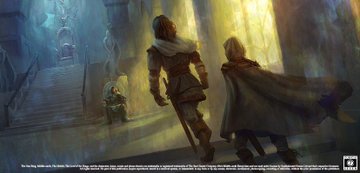 Welcome to #TORsday, strangers. Itís time for a meeting, a rather important one, about Councils in The One Ring The Lord of the Rings Roleplaying Game.

In second edition, Councils replace Encounters as the most socially focused of the three primary adventuring activities (the other two being Combat and Journeys). Not every meeting is worthy of a Council ó you can meet friendly folk at The Prancing Pony, negotiate with a wily trader, or question a suspicious stranger just by using the core skills and good roleplaying. But when the Company meets with the Great and the Good, their behaviour can influence those lords and ladies, causing them to render greater assistance or shoo away rude troublemakers.


More at the link above. I think the most valuable thing to come out of this article is the clarification on when it is appropriate to use the Encounter/Council rules.

---
"Change is inevitable. Growth is optional." - DRWolf (after John C. Maxwell)

(This post was edited by Otaku-sempai on Oct 10 2019, 3:32pm)