grammaboodawg
Immortal



Sep 10, 10:34am


Views: 1001

It's time for MORE BS!

---
Here is another of a series of Book Spoilers that looks at events leading up to the meeting of the White Council... for a moment of Tolkien-zen.

The Silmarillion: Of the Rings of Power and the Third Age


..."Now the Shadow grew ever greater, and the hearts of Elrond and Mithrandir darkened. Therefore... ...Mithrandir at great peril went again to Dol Guldur and the pits of the Sorcerer, and he discovered the truth of his fears, and escaped... ...returning to Elrond he said:
...'True, alas, is our guess. This is not one of the Úlairi, as many have long supposed. It is Sauron himself who has taken shape again and now grows apace... ...he is gathering again all the Rings to his hand; and he seeks ever for news of the One, and of the Heirs of Isildur, if they live still on earth...'
......Elrond answered: 'In the hour that Isildur took the Ring and would not surrender it, this doom was wrought, that Sauron should return.'
... 'Yet the One was lost,' said Mithrandir, 'and while it still lies hid, we can master the Enemy, if we gather our strength and tarry not too long.'
... Then the White Council was summoned; and Mithrandir urged them to swift deeds, but Curunír spoke against him, and counselled them to wait yet and to watch.
... 'For I believe not,' said he, 'that the One will ever be found again in Middle-earth. Into Anduin it fell,... ...I deem, it was rolled to the Sea. There it shall lie until the end, when all this world is broken and the deeps are removed.'
... Therefore naught was done at that time, though Elrond's heart misgave him... ...he said to Mithrandir:
... 'Nonetheless I forbode that the One will yet be found, and then war will arise again, and in that war this Age will be ended. Indeed in a second darkness it will end, unless some strange chance deliver us that my eyes cannot see.'
... 'Many are the strange chances of the world,' said Mithrandir, 'and help oft shall come from the hands of the weak when the Wise falter.'"

---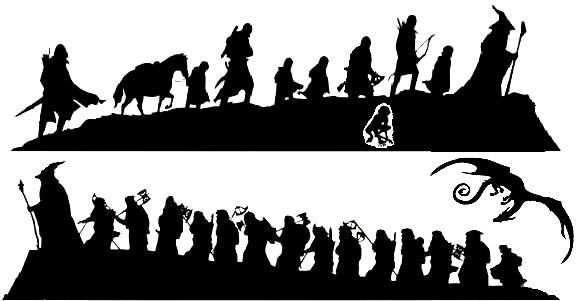 We have been there and back again.

TIME Google Calendar


(This post was edited by grammaboodawg on Sep 10, 10:35am)