grammaboodawg
Immortal



Sep 28 2018, 1:38pm


Views: 20351

TIME - September 28

---
Today in Middle-earth

September 28, 2941 (S.R. 1341)
1. Thorin and Company enjoy their stay in Lake-town.
(determined from text – referencing Karen Wynn Fonstad, The Atlas of Middle-earth – no text)
..Bilbo nurses a bad cold as he and the dwarves continue to enjoy the hospitality and praise of Lake-town's inhabitants. The hobbit was about as comfortable staying in a man-built house hovering over the water as he was in the eagles' eyrie. After the nearly disastrous ride down the river atop an unstable barrel, he was anxious for the dwarves to finish their business here and leave for the mountain. Even with the prospect of facing the worm Smaug, he wanted to get on with what they came to do and return to his own cozy hole under the hill.


September 28, 3018 (S.R. 1418)
1. Gandalf reaches Sarn Ford.
(from the appendices)
[As Shadowfax goes through his paces, Gandalf races for Hobbiton from Rohan to intercept Frodo... fearing the worst.
..."I reached the Shire when Frodo was on the Barrow-downs, though I set out from Rohan only when he set out from Hobbiton."

2. The Hobbits captured by a Barrow-wight.
(from the appendices)
..."...they woke suddenly and uncomfortably from a sleep they had never meant to take... ...The hobbits sprang to their feet in alarm, and ran to the western rim. They found that they were upon an island in the fog. Even as they looked out in dismay towards the setting sun, it sank before their eyes into a white sea, and a cold grey shadow sprang up in the East behind...
......Their going was very slow. To prevent their getting separated and wandering in different directions they went in file, with Frodo leading. Sam was behind him, and after him came Pippin, and then Merry. The valley seemed to stretch on endlessly....
...'Come on! Follow me!' Frodo called back over his shoulder, and he hurried forward. But his hope soon changed to bewilderment and alarm. The dark patches grew darker but they shrank; and suddenly he saw, towering ominous before him and leaning slightly towards one another like the pillars of a headless door, two huge standing stones. He could not remember having seen any sign of these in the valley, when he looked out from the hill in the morning.... ...His pony reared and snorted, and he fell off. When he looked back he found that he was alone: the others had not followed him.
...'Sam!' he called. 'Pippin! Merry! Come along! Why don't you keep up?' There was no answer. Fear took him, and he ran back past the stones shouting wildly: 'Sam! Sam! Merry! Pippin!' The pony bolted into the mist and vanished. From some way off, or so it seemed, he thought he heard a cry: 'Hoy! Frodo! Hoy!' ...Then a cry that sounded like help, help! that trailed off into a long wail suddenly cut short. He stumbled forward with all the speed he could towards the cries; but the light was now gone, and clinging night had closed about him...
......To his right there loomed against the westward stars a dark black shape. A great barrow stood there.
...'Where are you?' he cried again, both angry and afraid.
...'Here!' said a voice, deep and cold, that seemed to come out of the ground. 'I am waiting for you!'
...'No!' said Frodo; but he did not run away. His knees gave, and he fell on the ground.... ...Then suddenly he knew that he was imprisoned, caught hopelessly; he was in a barrow. A Barrow-wight had taken him, and he was probably already under the dreadful spells of the Barrow-wights about which whispered tales spoke.

...As he lay there, thinking and getting a hold on himself, he noticed all at once that the darkness was slowly giving way: a pale greenish light was growing round him. It did not at first show him what kind of a place he was in, for the light seemed to be coming out of himself, and from the floor beside him, and had not yet reached the roof or wall. He turned, and there in the cold glow he saw lying beside him, Sam, Pippin, and Merry. They were on their backs, and their faces looked deathly pale; and they were clad in white. About them lay many treasures... ...Swords lay by their sides, and shields were at their feet. But across their three necks lay one long naked sword...

......At first Frodo felt as if he had indeed been turned into stone by the incantation... ...But the courage that had been awakened in him was now too strong... ...he seized a short sword that lay beside him, and kneeling he stooped low over the bodies of his companions. With what strength he had he hewed at the crawling arm near the wrist, and the hand broke off; but at the same moment the sword splintered up to the hilt....

......All at once back into his mind, from which it had disappeared with the first coming of the fog, came the memory of the house down under the Hill, and of Tom singing. He remembered the rhyme that Tom had taught them. In a small desperate voice he began: Ho! Tom Bombadil! and with that name his voice seemed to grow strong: it had a full and lively sound, and the dark chamber echoed as if to drum and trumpet.

Ho! Tom Bombadil, Tom Bombadillo!

By water, wood and hill, by the reed and willow,

By fire, sun and moon, harken now and hear us!

Come, Tom Bombadil, for our need is near us!


......There was a loud rumbling sound, as of stones rolling and falling, and suddenly light streamed in, real light, the plain light of day. A low door-like opening appeared at the end of the chamber beyond Frodo's feet; and there was Tom's head (hat, feather, and all)... '...Come, friend Frodo!' said Tom. 'Let us get out on to the clean grass! You must help me bear them.' Together they carried out Merry, Pippin, and Sam... ...To Frodo's great joy the hobbits stirred, stretched their arms, rubbed their eyes, and then suddenly sprang up. They looked about in amazement, first at Frodo, and then at Tom standing large as life on the barrow-top above them...
......For each of the hobbits he chose a dagger, long, leaf-shaped, and keen, of marvellous workmanship, damasked with serpent-forms in red and gold. They gleamed as he drew them from their black sheaths, wrought of some strange metal, light and strong, and set with many fiery stones... '...these blades were forged many long years ago by Men of Westernesse: they were foes of the Dark Lord, but they were overcome by the evil king of Carn Dum in the Land of Angmar. Few now remember them,' Tom murmured, 'yet still some go wandering, sons of forgotten kings walking in loneliness, guarding from evil things folk that are heedless.'
...The hobbits did not understand his words, but as he spoke they had a vision as it were of a great expanse of years behind them, like a vast shadowy plain over which there strode shapes of Men, tall and grim with bright swords, and last came one with a star on his brow. Then the vision faded..."


September 28, 3021 (S.R. 1421)
1. The Company rides to the Grey Havens.
(not from the appendices-no text)
...Sam was quiet as he rode beside Frodo who was also silent and reflective. The terrain was changing and there was a scent of the sea in the air. Sam struggled with the thoughts of what to say or do to try and change Frodo's purpose, but he knew his master's mind was set. Thinking back he considered how for months he failed to recognize Frodo's pain and discontent as signs that there was no hope of healing for him in the Shire.

---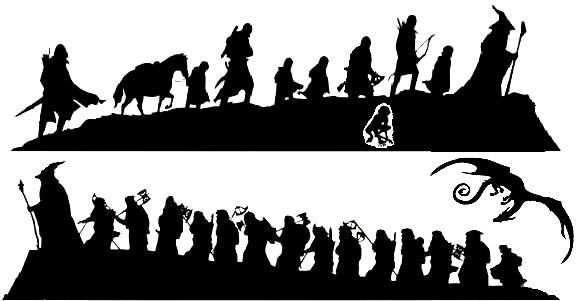 We have been there and back again.

TIME Google Calendar


(This post was edited by grammaboodawg on Sep 28 2018, 1:39pm)