grammaboodawg
Immortal



Sep 27 2018, 10:38am


Views: 20413

TIME - September 27

---
Today in Middle-earth

September 27, 3001 (S.R. 1401)
1. Bilbo crosses the Shire
(not from the appendices-no text)
...Bilbo makes his way to Rivendell as Frodo and Hobbiton recover from the Long-Expected Party. Bilbo's mysterious disappearance, followed by Gandalf's, became the frenzied topic of conversation at the Green Dragon and every other pub and fence in the Shire.


September 27, 3018 (S.R. 1418)
1. Gandalf crosses Greyflood.
(from the appendices)
..."Ever as I came north I heard tidings of the Riders, and though I gained on them day by day, they were ever before me."

2. In the house of Tom Bombadil.
(not from the appendices)
..."'Good morning, merry friends!' cried Tom, opening the eastern window wide. A cool air flowed in; it had a rainy smell. 'Sun won't show her face much today, I'm thinking.... ...Forget the nightly noises! Ringa ding dillo del! derry del, my hearties! If you come soon you'll find breakfast on the table. If you come late you'll get grass and rain-water!'
...Needless to say—not that Tom's threat sounded very serious—the hobbits came soon, and left the table late and only when it was beginning to look rather empty.

......Frodo stood near the open door and watched the white chalky path turn into a little river of milk and go bubbling away down into the valley. Tom Bombadil came trotting round the corner of the house waving his arms as if he was warding off the rain—and indeed when he sprang over the threshold he seemed quite dry, except for his boots...
...'This is Goldberry's washing day,' he said, 'and her autumn-cleaning. Too wet for hobbit-folk—let them rest while they are able! It's a good day for long tales, for questions and for answers, so Tom will start the talking.
...He then told them many remarkable stories, sometimes half as if speaking to himself, sometimes looking at them suddenly with a bright blue eye under his deep brows... ...As they listened, they began to understand the lives of the Forest, apart from themselves, indeed to feel themselves as the strangers where all other things were at home...
......Then suddenly he stopped, and they saw that he nodded as if he was falling asleep. The hobbits sat still before him, enchanted... ...Whether the morning and evening of one day or of many days had passed Frodo could not tell. He did not feel either hungry or tired, only filled with wonder... ...He spoke at last out of his wonder and a sudden fear of that silence:
...'Who are you, Master?' he asked.
...'Eh, what?' said Tom sitting up, and his eyes glinting in the gloom. 'Don't you know my name yet? That's the only answer. Tell me, who are you, alone, yourself and nameless? But you are young and I am old. Eldest, that's what I am... ...Tom was here before the river and the trees; Tom remembers the first raindrop and the first acorn. He made paths before the Big People, and saw the little People arriving. He was here before the Kings and the graves and the Barrow-wights. When the Elves passed westward, Tom was here already, before the seas were bent. He knew the dark under the stars when it was fearless—before the Dark Lord came from Outside...'

......'Show me the precious Ring!' he said suddenly in the midst of the story: and Frodo, to his own astonishment, drew out the chain from his pocket, and unfastening the Ring handed it at once to Tom.
...It seemed to grow larger as it lay... ...on his big brown-skinned hand. Then suddenly he put it to his eye and laughed. For a second the hobbits had a vision both comical and alarming, of his bright blue eyes gleaming through a circle of gold. Then Tom put the Ring round the end of his little finger and held it up to the candlelight. For a moment the hobbits noticed nothing strange about this. Then they gasped. There was no sign of Tom disappearing!
...Tom laughed again, and then he spun the Ring in the air—and it vanished with a flash. Frodo gave a cry—and Tom leaned forward and handed it back to him with a smile.
...Frodo looked at it closely, and rather suspiciously... ...He was perhaps a trifle annoyed with Tom for seeming to make so light of what even Gandalf thought so perilously important. He waited for an opportunity when the talk was going again... ...then he slipped the Ring on. Merry turned towards him to say something and gave a start, and checked an exclamation. Frodo was delighted (in a way)... ...He got up and crept quietly away from the fireside towards the outer door.
...'Hey there!' cried Tom, glancing towards him with a most seeing look in his shining eyes. 'Hey! come Frodo, there! Where be you a-going? Old Tom Bombadil's not as blind as that yet. Take off your golden ring! Your hand's more fair without it. Come back! Leave your game and sit down beside me! We must talk a while more, and think about the morning. Tom must teach the right road, and keep your feet from wandering.'

......Then he taught them a rhyme to sing, if they should by ill-luck fall into any danger of difficulty the next day.

Ho! Tom Bombadil, Tom Bombadillo!

By water, wood and hill, by reed and willow,

by fire, sun and moon, harken now and hear us!

Come, Tom Bombadil, for our need is near us!"




September 27, 3019 (S.R. 1419)
1. The Travellers are still on the road.
(not from the appendices-no text)
...The hobbits rest with Bilbo in Rivendell.


September 27, 3021 (S.R. 1421)
1. The Company rides to the Grey Havens.
(not from the appendices)
[.. "Elrond and Galadriel rode on; for the Third Age was over, and the Days of the Rings were passed, and an end was come to the story and song of those times. With them went many Elves of the High Kindred who would no longer stay in Middle-earth; and among them, filled with a sadness that was yet blessed and without bitterness, rode Sam, and Frodo, and Bilbo, and the Elves delighted to honour them.
[.. Though they rode through the midst of the Shire... ...all the night, none saw them pass, save the wild creatures; or here and there some wanderer in the dark who saw a swift shimmer under the trees, or a light and shadow flowing through the grass as the Moon went westward."

---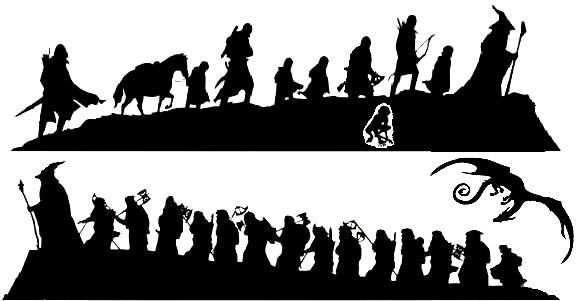 We have been there and back again.

TIME Google Calendar


(This post was edited by grammaboodawg on Sep 27 2018, 10:39am)