grammaboodawg
Immortal



Feb 15 2012, 8:03pm


Views: 1909

Bilbo carried Thorin's letter with him throughout the Quest and used it to confirm his portion of the treasure when he's talking the Bard and Thranduil, so I'd always thought that he carried his contract, too. BUT the size of this one makes me think he'd leave it behind and just carry the letter as his proof.

Actually... did Bilbo ever sign the contract? ;) From his comment here, I'd say yeah... but seeing that he thought the morning the Quest started and the Dwarves were gone, he didn't seem to think he was supposed to be going... making breakfast and clearing up and all. It'll be fun to see how they handle it in the film! In the trailer when he's chasing after the Dwarves, he's got the contract flailing behind him and firmly grasped in his hand!

Oh geez... this is gonna be fun!! :D





"Really you know," Bilbo was saying in his best business manner, "things are impossible. Personally I am tired of the whole affair. I wish I was back in the West in my own home, where folk are more reasonable. But I have an interest in this matter—one fourteenth share, to be precise, according to a letter, which fortunately I believe I have kept." He drew from a pocket in his old jacket (which he still wore over his mail), crumpled and much folded, Thorin's letter that had been put under the clock on his mantelpiece in May!
---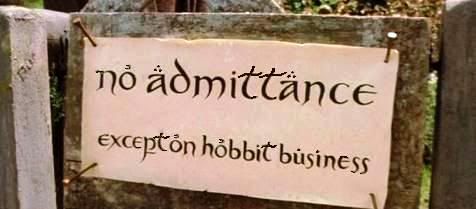 I really need these new films to take me back to, and not re-introduce me to, that magical world.




TORn's Observations Lists
Unused Scenes


(This post was edited by grammaboodawg on Feb 15 2012, 8:06pm)