grammaboodawg
Immortal



Sep 22 2011, 8:38pm


Views: 8482

Walk to Rivendell TORn-Up Conversion Aids

---
Welcome to TORn's Walk to Rivendell Conversion Aids


There are many sites and variations for converting activities to steps, steps to miles, and steps to calories. As long as you consistently use the same conversions, you'll have a satisfying trek from here to there and back again!

However, we thought it would be helpful if we offered a set of conversions that could be used by those of us on TORn's Walk to Rivendell via the Éowyn's Challenge website. So here are some charts and guides to help you on your journey and to take away the confusion of how to tick off the miles when walking isn't always the way to go.

How to convert your total steps into miles:
· Multiply the number of minutes you do an activity by the number of steps found on the activity chart below. For example, 30 minutes of raking leaves equals 3,750 steps (30 minutes x 125 steps).
· 2,000 steps equals one mile (on average).
· Divide 3,750 steps by 2,000 and you get your mileage of 1.875 miles rounded up to 1.88 miles.
· If your activity is not listed, find those most similar to it on the list and estimate the activity's step value.

Watch your step!
If you REALLY want to get technical about your walk, you'll have to figure on Strider... I mean... figure your stride or step length! Everyone has their own gait and step length; which, of course, would effect how many steps YOU would take to complete a mile compared to others. Someone who is 6' 2" will have a longer stride than someone who is 5' 2". Below is a chart to help determine your step length and how many of YOUR steps it would take to make up a mile.

Hey there, Longshanks! Got a pedometer?
You can easily participate in the Walk to Rivendell without a pedometer. However, if you plan to try one or already use one, you may want to determine your step length so they can calculate actual miles walked by multiplying your step length by steps walked. Don't worry! Your pedometer will do the calculating!

For a pedometer to measure distance accurately, you first program in your stride or average step length. Step length is the distance covered in an average step, either from heel to heel or toe to toe.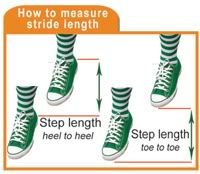 [pic courtesy of walkingwithattitude.com]

No Pedometer, thank you!
A pedometer is not necessary to track your mileage! In fact, you're not even restricted to walking to accumulate miles! Here's something to guide you through the confusion of engaging in other activities and converting them to miles.

How to measure your step length.
To begin, you need to know that there are 5280 feet to a mile. By measuring your step length (or stride), you'll see how many actual feet YOU cover in a mile. The longer your stride, the fewer steps you'll take to make up a mile. The shorter your stride, the more steps you'll need to cover a mile. By checking your step length on the chart below, you will see how many feet you cover when walking a mile. For example: if your step length is 2.10 (2' 10" or 2 ft 10 in), the number of steps you'll need to take to make up a mile are 1864 (a lot less than the average 2000 used).

How can you "see" your steps to measure your step length? Make some footprints by walking in some sand, or snow, or with wet shoes/feet on a dry surface, or by the tiles on the floor. Then measure the distance from your forward foot's heel to your back foot's heel or from toe to toe. Now you're a Strider!

Step Length Conversion List

Activity to Steps Conversion List

Metric Activity to Steps Conversion List

---

Happy Birthday Bagginsesssss!!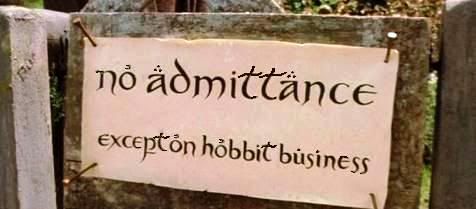 I really need these new films to take me back to, and not re-introduce me to, that magical world.




TORn's Observations Lists
Unused Scenes


(This post was edited by dernwyn on Oct 1 2011, 1:54am)