grammaboodawg
Immortal



Sep 20 2008, 1:34pm


Views: 1060

TIME - September 20

---
Today in Middle-earth.

September 20, 3018 (S.R. 1418)
1. Gandalf gains entrance to Edoras.
(from the appendices)
...Théoden commands him to go: 'Take any horse, only be gone ere tomorrow is old!'
..."'...the king of the land would not listen to my warnings. He bade me take a horse and be gone; and I chose one much to my liking, but little to his. I took the best horse in his land, and I have never seen the like of him.'"

2. It's busy at Bag End.
(not from the appendices)
..."On September 20th two covered carts went off laden to Buckland, conveying the furniture and goods that Frodo had not sold to his new home, by way of the Brandywine Bridge."


September 20, 3019 (S.R. 1419)
(not from the appendices)
...The Travellers approach the moors leading to the Valley of Rivendell as Saruman passes the borders of the Shire.


September 20, 3021 (S.R. 1421)
(not from the appendices)
..."In the next day or two Frodo went through his papers and his writings with Sam, and he handed over his keys. There was a big book with plain red leather covers; its tall pages were now almost filled. At the beginning there were many leaves covered with Bilbo's thin wandering hand; but most of it was written in Frodo's firm flowing script. It was divided into chapters but Chapter 80 was unfinished, and after that were some blank leaves. The title page had many titles on it, crossed out one after another, so:

My diary. My Unexpected Journey. There and Back Again. And What Happened After.

...Adventures of Five Hobbits. The Tale of the Great Ring, compiled by Bilbo Baggins from his own observations and the accounts of his friends. What we did in the War of the Ring.

Here Bilbo's hand ended and Frodo had written:

THE DOWNFALL


OF THE


LORD OF THE RINGS


AND THE


RETURN OF THE KING

(as seen by the Little People; being the memoirs of Bilbo and Frodo of the Shire, supplemented by the accounts of their friends and the learning of the Wise.)

Together with extracts from Books of Lore translated by Bilbo in Rivendell.



...'Why, you have nearly finished it, Mr. Frodo!' Sam exclaimed. "Well, you have kept at it, I must say.'
...'I have quite finished, Sam,' said Frodo. 'The last pages are for you.'"


---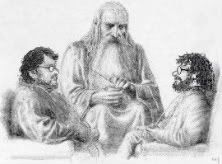 "Barney Snow was here." ~Hug like a hobbit!~ "In my heaven..."

I really need these new films to take me back to, and not re-introduce me to, that magical world.




TORn's Observations Lists


(This post was edited by grammaboodawg on Sep 20 2008, 1:37pm)